Communications
Continued Success for AU's PRSSA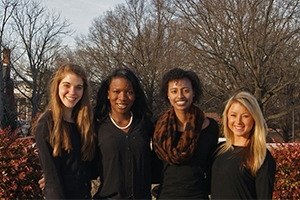 This year has been full of success and promise for American University's Public Relations Student Society of America chapter. After winning a bid to co-host PRSSA's national conference this October, AU's PRSSA members have been busy planning the five day event that will bring 1,000 conference participants to Washington, D.C.

In preparation for the national conference, AU's PRSSA has been working closely with co-hosts from the University of Maryland. From selecting venues and speakers to coordinating budgets and social media outreach, careful planning for this event has taken months. Chelsea Williamson and Rachel Landis, both National Conference co-directors, have seen the project from the first stages of the 70-page bid submission to this final stretch.

"Our conference's theme is 'Intersections: The Meeting Place of Communication and Culture,'" says Landis. "Part of the theme is inherent in the location. DC has some of the top public relations firms in the world, in addition to a multicultural heritage. We want to show that yes, we are PRSSA, but this is also our city, and it's a melting pot."

The opportunity to participate in large-scale event planning and other PRSSA projects such as AU's student run public relations firm, Eagle Communications, have allowed members to gain invaluable experience. Kelsey Balimtas, president of AU's PRSSA, is a veteran member and received two awards at the 2013 national conference for her work. Now, looking back, she is grateful for what being in PRSSA has done for her.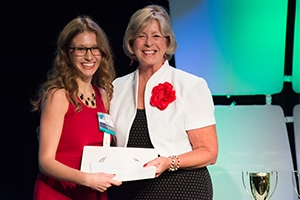 Chapter president, Kelsey Balimtas, receives the
Ron Culp Mentorship Scholarship and John Graham
Award at the 2013 PRSSA National Conference.

"The experience introduced me to what students are capable of. I was able to act as a liason between my university and high-powered professionals," Balimtas says. "I feel like I have transitioned from being a mentee and really looking up to the people around me, to now being a mentor for others."

Williamson, a junior, agrees that PRSSA has provided her with unique opportunities.

"PRSSA has allowed me to meet other students also interested in PR. And I definitely got hands-on experience; I'm helping to plan a conference of more than a thousand students!" she says.

SOC professor Gemma Puglisi has been the advisor of AU's PRSSA chapter for the past 10 years, and is extremely proud of how much drive the organization's members exhibit.

"Over the years, we lose students as they move on, and more come to fill those shoes, and we keep going. We have a chapter that works extremely passionately to keep it going strong," Puglisi says. "This 2014 conference is going to put us on the map even more."

For many AU students involved in PRSSA, the organization is much more than an additional extracurricular activity.

"I actually knew about the PRSSA organization before coming to AU, and my criteria for choosing a college was to find a school with a strong chapter," recalls Landis. "Being in PRSSA is so inherent to my experience. Leadership, humor, communications, anything you hope to get out of your college experience, I got out of PRSSA."

PRSSA is not limited to students pursuing careers in public relations or communications. The chapter welcomes students from all schools, with the conviction that their work is relevant to everyone.

"The core element of PRSSA is community. Everyone can find a home, no matter what major or interest," says Balimtas. "Communication is at the core of everything we do now, and being able to communicate effectively is invaluable.