Education
Teaching the Power of Place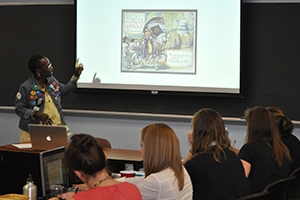 D.C. schools now have a stronger American history curriculum along with a corps of teachers who are experts in their specialties as a result of an American University-District public schools partnership. 
After a three-year grant to boost the quality of American history teaching in District public schools while creating an improved curriculum and cadre of experts in the subject, 60 D.C. elementary, middle, and high school teachers have benefited from the program. 
It all happened because of a $964,000 U.S. Department of Education grant put together by Kathleen Franz, an associate professor in the College of Arts and Sciences' Department of History, and Adrea Lawrence, until recently an associate professor in the School of Education, Teaching, and Health. Lawrence now teaches at the University of Montana. 
"The Power of Place: Landscapes as Historical Texts, a professional development program for the District of Columbia Public Schools," was a cooperative effort with AU as well as George Mason University's Center for History and New Media and officials at several historical sites. The program helps teachers concentrate not just on subject matter but also pedagogy. 
"This has been great," Scott Abbott, social studies specialist for D.C. public schools, who supports kindergarten through 12th grade in developing curriculum, said at an July 19 gathering of enthusiastic D. C. teachers on the AU campus. "Our teachers during the school year get a lot of training that's focused on bigger-picture things—general socialized pedagogy, embedding literacy within their classrooms. When we have time over the summer, we can really get in-depth with a historical topic that is very high interest to them and to their students. You can see how excited people are sharing what they have learned." 
During the course of the grant, history and education faculty members accompanied D.C. teachers to historical sites in the Mid-Atlantic from Philadelphia to Mount Vernon. The first two years of the program, teachers looked at the power of place in the American Revolution and during the Civil War. This year, classes concentrated on historical sites and the civil rights movement. 
At the presentation of curricula they had prepared for the coming school year, 20 D.C. teachers laid out lesson plans and identified resources that will enrich both their classrooms and those of their peers. Class topics included an examination of why racism still exists and the lessons of Rosewood, Florida, a town that was destroyed by white mobs after a lynching; the African American presence in American history; protest marches in Washington and their effectiveness; a history of Dunbar High School; and a look at the slave trade in Georgetown. 
During his presentation, Steve Dingledine, who teaches at Benjamin Stoddert Elementary in Glover Park, noted that Stoddert is about a mile north of the Georgetown University campus. Two hundred years ago, at O and 32nd streets, he discovered that there used to be a slave pen, "a place where humans were held in bondage. And then, just a couple of months ago, President Obama spoke on the Georgetown campus, a few blocks up O Street, on climate change. I think that it's very interesting that over a 200-year period people can go from being held in bondage on one block and then 200 years later, as the leader of the free world, give a speech on a totally different subject than civil rights: climate change." 
Dingledine said earlier that the Power of Place project had helped him think more deeply about historical research and to use primary sources more skillfully. 
That's exactly what program co-creator Franz wanted to hear. 
"One of the things we did when we were writing the grant and planning the application was to survey D.C. public schoolteachers about what they thought they needed in American history, because the goal and mission of the grant program was to train teachers in traditional American history," Franz said. 
"The fear that gave rise to the grant money [the Teaching American History grants were the creation of the late Senator Robert Byrd] was that social studies teachers and history in general have been pushed out of pre-collegiate teaching in schools, so there was a really strong feeling in Congress that teachers should know American history. We asked the teachers what they wanted to know and they said they really needed a broad survey of U.S. history. And I think we accomplished that. I think they came away knowing more about U.S. history in general, but the secondary goal and accomplishment was they learned how historians work so they can teach those methodologies of what we call inquiry-based learned. We taught them something about U.S. history but also something about how historians work."