Alumni
Back on their Feet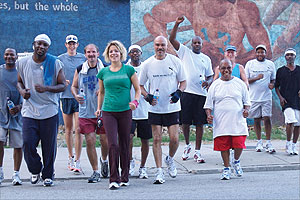 Before sunrise they gather in a circle—each with an arm draped around their neighbor's shoulders—and ask God for the serenity to face another day. The choices they've made have led them down divergent paths—success or failure, happiness or despair, sobriety or addiction.
Yet they've all wound up here, preparing to embrace the day with a two-mile run through the barren streets of South Baltimore, thanks to a 28-year-old woman from North Dakota whom almost none of them have met.
Theirs is not the only predawn circle. Seven more are forming in Philadelphia, where the idea of a running club for homeless addicts first came to Anne Mahlum. Many would have let the thought harmlessly pass through their mind; Mahlum chased it down.
"Running's so primitive," says Mahlum, SOC/MA '03, founder of Back on My Feet, the nonprofit she started in her adopted hometown of Philly to help recovering addicts lift their bodies, minds, and spirits. The club has flourished in the City of Brotherly Love, the place the majority of its volunteers and the people they work with—and work out with—call home.
"It's such a natural thing for us to do," she says. "Running doesn't discriminate, it doesn't matter if you're a past addict or black or white. The natural high you get from it is appropriate. Anyone can get this feeling."
In the darkness of this almost cool July morning, five residents of the Baltimore Station shelter, home to men "transitioning from the cycle of poverty, substance abuse, and homelessness to self-sufficiency," and 10 Back on My Feet volunteers set out toward Federal Hill, pursuing the runner's high that awaits somewhere along the way. Since Mahlum started the club two years ago, the organization has expanded to a total of 10 shelters, including this one in Charm City.
"You feel as though you're doing something positive for yourself, and nobody can take that from you," says Earl Washington, an addict who's fought cocaine and alcohol demons for almost half his 48 years. "Stop using, that's the easy part," he says. "It's learning how to deal with life. This helps me fill that void."
The concept of running as a catalyst for substantive social change strikes some—particularly nonrunners—as odd. But Mahlum learned the sport's therapeutic power as a teenager dealing with her own problems, and it's a lesson she never forgot.
"There are so many metaphors that surround it," she says. "The discipline it takes to be a runner is extraordinary. If you're going to go out and run 10 miles and you haven't trained, you're not going to make it. If you're going to try and take shortcuts, it never works. The same thing holds true in life. You just have to keep moving forward."
Shattered Reality
Mahlum's childhood in Bismarck, North Dakota, was as idyllic as the Cleavers, or so it seemed.
"I grew up thinking everybody in the whole wide world had a yard and a bike and did the fun things I did on weekends," she says. "That was my world. It was the greatest childhood."
But simmering under the surface were problems that at age 16 would shatter her rosy vision of reality.
"My dad went through drug and alcohol recovery before I was five," she says. "I never saw him do any of those things, so it was kind of irrelevant in my life. All I saw was my dad drive four hours to watch my basketball game, or him spending time helping me with my jump shot. He was the dad that everybody wanted.
"One day he came home and asked me if I could leave so he could talk to my mom," she recalls with clarity. "I knew something was wrong. When I came back I saw him on the couch looking embarrassed and sad. I went and sat by him, and he told me he had gambled away thousands and thousands of dollars, and finally gotten to the point where he couldn't pay it back."
Mahlum's mom kicked him out of the house later that night. The family was fractured forever.
"I felt all this emotion I didn't know what to do with, so I went for a run that day," she says. "I knew I couldn't just sit and do nothing, I had to move forward to get through it. It was that rhythm that made me feel okay about being vulnerable."
That original five-mile path along her neighborhood golf course became her sanctuary, and running has been a part of her ever since. Throughout college in Minnesota and graduate school at AU, Mahlum has run virtually every day since that fateful one a dozen years ago.
In 2004 she completed her first marathon, the U.S. Marine Corps in Washington. She's gone on to log seven more on five continents, and will add to her total in September when she runs one in Australia. After that only one continental hurdle will remain—for now. She's on the waiting list for an Antarctica marathon and hopes to conquer it by 2011.
"Am I addicted to running?" she says. "Sure. Anything I do, I'm going to do 120 percent."
'We said that first prayer, and then we ran'
Mahlum first came to Washington in 2001 as an intern for Senator Kent Conrad (D-N. Dak.). Immediately, she was smitten with the town.
"It's a really smart, vibrant city that has great energy to it," she says. "People go there to change the world. I knew it was the place I wanted to be."
She enrolled in AU's School of Communication sight unseen, and says it was one of the best decisions she's ever made.
"I think communication is everything, and I learned a lot at AU," she says. "You have to know who's your audience, what is your message, how do you establish a brand."
All lessons that would serve Mahlum well in the future.
Work led her to Philadelphia, where her morning running route passed a homeless shelter on the corner of 13th and Vine, the Sunday Breakfast Mission.
"I'm seeing these guys congregate outside the mission around 5 a.m.," she says. "Because I'm from North Dakota, I'm waving at everyone. They looked at me a little bit strange to begin with, but they got comfortable enough with my presence after a while that a more intimate rapport started to develop. I would say, 'Good morning guys, how are you doing?' and they would fake run with me for a few steps."
While running one morning in May 2007, Mahlum had an epiphany, "I remember looking back at them and thinking, 'I'm cheating them,'" she says. "I'm running by these guys every morning, moving my life forward physically, spiritually, mentally, and emotionally. This is the best part of my day, and I'm leaving these guys in the exact same spot."
Mahlum sprinted into action. She Googled the shelter then sent an e-mail proposing a running club. Eventually, she convinced the skeptical director to ask if anyone was interested.
Nine men were. So Mahlum walked into the mission and told her story, testifying to the powerful force running had been in her life. Stereotypes, the young blonde swore to the mostly African American men, would evaporate with sweat.
There was only one problem: at this exact same time, Comcast called to offer her a job. She took it, but asked for five weeks to stabilize the running club.
"I thought this could really be an opportunity for them to move their life forward," she says. "Even though I didn't know them that well, I had a very emotional connection to them, because they reminded me a lot of my dad. My dad struggled with his life, and I know he still struggles. For me to get through my dad's issues I used running, and I thought, 'Why can't that be their healing force too?'"
Mahlum sent out e-mails to everyone she'd ever known asking for donations of shoes, shirts, or money. In the early morning hours of July 3, 2007, Back on My Feet was born.
"That first morning we all got in a circle, and I saw how everybody around us, they didn't know what we went through, but they didn't care," says Mike Solomon, 43, an original member who now works for the organization part time. "We said that first prayer, and then we ran."
Solomon, and Back on My Feet, haven't looked back since. Since that inaugural mile, Solomon has racked up hundreds more, becoming the first residential member to complete a marathon. He also was the first member to graduate from Next Steps, the organization's structured program designed to get members working and living on their own in six to nine months.
As long as each member keeps up a 90 percent attendance rate during the thrice-weekly morning runs, they are eligible for small grants to be used for transportation, clothes for interviews, job training, and the like.
"I didn't graduate anything before this," says Solomon, a high-school dropout who struggled with crack addiction. "To finish a full marathon, I thought I was Superman there for a minute. The sense of community is what it's all about. I'm not saying this is the cure-all, but to actually have someone that you can put your hands on and say, 'This is my support,' that's important. Everyone needs someone. The world would be a lot better if people had other people in their lives, and some people just don't. Anne reached out to people to let them know they don't have to do it on their own."
Running Toward Results
During her five-week sabbatical prior to joining Comcast, Mahlum ate, drank, slept, and dreamt Back on My Feet.
"I started to see behavior changes in the guys," she says. "They were standing up taller, smiling more, clapping for their teammates. There was something bigger going on that I just happened to be a part of. I was infatuated with the idea. It was like being in love."
Comcast turned out to be her jilted lover. The day before she was supposed to start, she made the difficult decision to leave the company at the altar.
Since that moment, Back on My Feet has exploded, moving from one team in one city to 10 teams in two cities, with more growth on the horizon. The organization will expand to Washington, D.C., in March 2010.
Its results have been tangible. Boosted by an abundance of positive media coverage (CNN, ABC, and NBC all have done stories), the organization has been extraordinarily successful in fund raising, and now has a budget of more than $1 million. Not yet three years old, its statistics are staggering: 700 volunteers, 7 full-time employees, 40-plus members with new jobs, 30-plus with their own roofs over their heads.
If those numbers are surprising to most, well, they're not to Mahlum.
"When you provide an environment for people where they feel respected and valued, cared for and loved, who's not going to want to be a part of that?"
Back in Baltimore, Earl Washington is cooling down while stretching his burning leg muscles. After working so hard to achieve and sustain sobriety, he fell back into the abyss about six months ago.
But things are looking up these days. He's lived at Baltimore Station for just shy of 90 days, been clean for nearly double that, has a line on a new job, and has dedicated himself to Back on My Feet. This morning he earned a blue bracelet for completing five miles with the club.
"It gets your blood flowing, your body loose, and prepares you for the day," he says, sweat dripping down his brow.
Just what the rest of his days holds, Washington doesn't know. He's up now at a time he used to be coming down from an all-night high, or leaving one bender looking to score for another.
His goals are simpler these days: stay clean, and keep moving forward.