In the Community
D.C. Avenues of Opportunity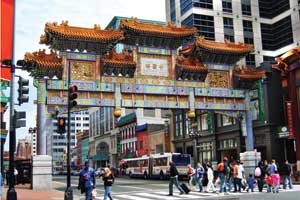 To be part of AU is to be part of Washington, D.C., and that doesn't just mean Capitol Hill. There are avenues of opportunities all across the nation's capital, from the bustling streets of downtown to quiet trails in the woods. Students and scholars branch out across the city to engage in cutting-edge research at renowned institutions, explore the surprisingly lush ecosystem of places such as Rock Creek Park, and learn from the people of the broader Washington community. Here are some of the ways that the people of AU have been learning from, and often benefiting, the nation's capitol.
Oregon Ave: Under Rotting Leaves
Somewhere deep in the heart of Washington lives a pale, blind shrimp-like creature. It's been there for millions of years, burrowing in the muck under rotting leaves and dining on bacteria.

It's called an amphipod, and some of its kind are found only in Rock Creek Park, where biology professor David Culver and his students are hunting them.

Culver and his students have been surveying the amphipods in partnership with the National Park Service, whose keen interest in the odd creatures as indicators of ecosystem health belies their minuscule size.

The amphipod, which is barely the size of a thumbnail, is one of three creatures native to the District to make the endangered species list. The others are the bald eagle and the cougar.

Finding amphipods takes a lot of hiking to pinpoint a possible habitat—named hypotelminorheic—which Culver gets a kick out of pronouncing. To the untrained eye, it's just a damp spot in the woods. It's actually a kind of seep with poor drainage, where hours of turning up leaves at the right time of year just might uncover the eyeless, unpigmented creature.

"Three [amphipod] species are found nowhere else except the park system of D. C.," says Culver. "Is this a remnant of a widespread species? How can it survive? What's threatening it?"

They're not just rare. One may even be a new species, found by Culver and his AU students. They're awaiting the verdict.
Meanwhile one student is trying to learn more by sequencing amphipod DNA, while the Park Service, which has provided funding for several AU graduate students involved in the project, is using the data for ecological protection. The presence of the secretive creatures has already required the city to change the way it channels some of its storm runoff, which often drains into Rock Creek Park.

"It points out how important the park is as a repository of biodiversity," says Culver. Besides, he adds, "They're really neat animals."
Georgia Ave: When the Cameras Roll
You never know what will happen when the cameras roll. But when you're making a documentary, you're not just looking for a good image. You're there to capture a moment of truth.

The students had been filming for hours in the effort to show what their professor, filmmaker in residence Nina Shapiro-Perl, calls the "unseen, unheard Washington." Not the city of lawmakers and lobbyists, but the community of working people like the Guatemalan housekeeper and her skateboarding son who opened their Rockville, Maryland, home to a team of film and anthropology students.

The graduate class partnered with nonprofit organizations that matched the students with subjects; in turn the organizations can use the students' films on their Web sites. But the students also partnered with the people they met—people like Frances Garcia and 13-year-old Gabriel.

Frances, who is learning English through the Montgomery Coalition for Adult English Literacy, told her story in her newly acquired English, with the help of her frequent translator, Gabriel. Then the boy began to share some private thoughts. 
His lips quivered. He told of his mother's bravery in coming to America with a young child and no English. And he spoke softly of what his heritage means to him.

"I love being Latino, 'cause I feel there is a lot of passion in us . . . We're very dedicated and put heart into what we want to do, and I see that, 'cause we have gone far. That just really fills me up." He wiped a tear away. His mother looked at him with glowing eyes.

The AU students had caught it all. They'd have a good short film. But more important, they'd gained insight into the lives of others in their Washington community.
Massachusetts Ave: Opera's Future
They came to AU for a song. Thirty-four teens with soaring voices came from around the country and Europe to train at the Washington National Opera Summer Institute at American University.

It all capped off with an opportunity to sing at the Kennedy Center.

The intensive workshop brought some of the country's most talented high-school students to the nation's capital for three weeks of trills and vibrato, Italian arias and breath practice, music theory and period movement, audience applause, and one-on-one coaching.  

Only the best of the best landed spots at the institute, where AU faculty were among the vocal coaches and musicians who devoted hours to honing the sparkling young voices. AU music students served as mentors and residence assistants for the participants, who lived on campus.

It was the first year for the partnership between the university and the prestigious workshop of the opera company headed by tenor Placido Domingo.

In July, Washington had a chance to be dazzled by the promising young voices at two Katzen Arts Center recitals, and a Kennedy Center showcase that featured some of the workshop's young stars.

New Jersey Ave & Florida Ave: The Tale of Two Cities
Are you from Washington or D.C.? Sabiyha Prince is from D.C. and knows the difference. One is the Hill; the other is the hood. Prince is studying what "D.C." means to people who grew up and live in the city and now perceive its changing streets through the lens of personal history and experiences.

"I'm interested in how a place is socially constructed—how people talk about D.C., what is unique about how it developed, how it became this place that for some African Americans, whether you live here or not, is referred to as Chocolate City. It has a meaning about black people running a city, what it means to have a majority population, and the theme of facing change."

Her work is a far cry from the old image of an anthropologist who swoops into another culture from some far-off colonial land. For Prince, too, it's a departure after her earlier work in Harlem, as well as a scholarly challenge.

"Rather than privileging my viewpoint as a person from D.C., I just see it as a resource.
I have some rich experiences growing up in a place like this. I remember going through the riots. It didn't affect my neighborhood, but it affected my sense of security and my sense of race. I remember people trying to protect property by putting things like 'Soul Brother Number One' in the windows of
their stores or on their cars.
 
"It's a richness of memory and association. Memory is so important. Memory is a part
of how people think about place."
Michigan Ave: Chemists vs Microorganisms
Monika Konaklieva is a chemist with a cause. Lives around the world are at stake in a race that pits the minds of scientists against the speedy evolution of dangerous microorganisms. The professor and her students are part of that race as they work to combat drug-resistant bacteria in partnership with the Children's National Medical Center, Walter Reed Army Institute of Research, and the Tuberculosis Research Lab at the National Institutes of Health.

Antibiotics have saved millions of lives, but they're threatened by counterattacks from bacteria with resistance to the life-saving drugs. One of those, Stenotrophomonas maltophilia, causes meningitis and other diseases.

Premed student Tim Beck, who works with "Dr. K," as students call Konaklieva, explains how it works. "It takes about 20 minutes for a generation of bacteria to establish itself. So, when people feel better and stop taking their tuberculosis-fighting drugs, for instance, the hardiest bacteria pass on their resistance to the next generation. Evolution takes place in no time at all for these organisms."  

AU is testing compounds that are different from penicillin in their structure but can also, like penicillin, destroy the cell walls of bacteria. Much of the work is done with AU's state-of-the-art equipment, such as a new mass spectrometer that measures the chemical weight of compounds.

Doctoral student Terena Herbert also uses the lab facilities of Walter Reed. "Dr. K gives me the compound her chemistry students make, and I test them on rat brain cells to see if they can protect the brain against a chemical called glutamate," says Herbert. "It's the most prevalent neurotransmitter in your body, but if it's not regulated, or there's too much of it, it causes cell death and can lead to neurological disorders."

Herbert is a student in the Behavioral Cognition and Neuroscience program in the psychology department; Konaklieva teaches in both the psychology and chemistry departments. Working with several departments and finding partners among the area's top research institutes is part of how researchers at AU ensure that their students gain a top science education.

"In this day and age, it's too complicated not to go interdisciplinary," Beck says. "There's no one person who can know enough, even if you have five PhDs. That's something AU has done very well. I've had opportunities I never imagined."