Communications
Future of the Internet Challenged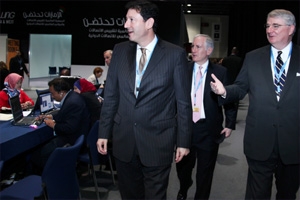 A recent United Nations world conference held in Dubai was supposed to be dedicated to updating telecommunications regulations.
What the December World Conference on International Telecommunications ended up largely focusing on was an attempt by Russia, China, and some Middle Eastern countries to gain more government control over the content of the Internet.
In the end, the International Telecommunication Union treaty was not signed by 55 nations—including the United States, the United Kingdom, Japan, Canada, and Australia. Voting for the new treaty, which gives governments access to international telecommunications services and allows them to block what they choose to label as spam, were 89 nations, including Afghanistan, Singapore, Egypt, and Iraq.
What happened at Dubai and what it means were the topics of a postmortem on the ITU meeting at American University. The December 19 conference, sponsored by the Washington, D.C., chapter of the Internet Society, was hosted by AU's College of Arts and Sciences and the College's Department of Computer Science.
The AU event's moderator, Laura DeNardis, an Internet governance scholar and a professor in AU's School of Communication, explained that the purpose of the Dubai ITU meeting was to update the treaty, known as International Telecommunication Regulations, or ITRs, that were developed in 1988.
Countries such as the United States that did not vote for the treaty remain bound by the 1988 measure.
U.S. Ambassador Terry Kramer, who led the U.S. delegation in Dubai, tried to put language for government intrusion into Internet control in perspective.
"It's absolutely clear these proposals that came from Russia, from China, from the Arab states, are shocking," Kramer said. "But you know what? There's a bigger discussion here about the benefits of the Internet that will carry the day, I believe fundamentally. It is a long game that has to be worked."
In addition to questions of governments accessing international telecommunication services, Kramer laid out the U.S. government's other main concerns:
• Spam. While unquestionably a problem, he said, who decides what is unsolicited or inappropriate? Letting governments decide makes it easy for them to block messages they disagree with.
• Network security. Hacking and malware are big problems, Kramer agreed, but more stakeholders than just government must be involved in addressing the issue.
• Internet governance. Objectionable provisions related to Internet naming were watered down, Kramer acknowledged, but the fact that the Internet entered the ITR discussions at all was a major concern.
Google had also launched an ad campaign echoing some of Kramer's concerns about government intrusion into the Internet.
"The Internet fundamentally creates opportunities for citizens to communicate with one another, to share their views, etc.," Kramer said. "It creates opportunities for consumers. Consumers can transact; entrepreneurs and small businesses can create new services via the Internet. And it creates benefits for society because of the economic growth that results, because of the communication and interaction that people have. Actions that we take that impede that development, that opportunity, are going to be problematic. We've got to keep acknowledging that the Internet is very different from telecom."
Kramer said the ITU meeting was a missed opportunity to address critical topics such as the need for better broadband access in Africa.
Also speaking on the AU panel were Sally Wentworth, senior manager of public policy at the Internet Society, and Harold Feld, senior vice president at Public Knowledge.
The next gathering with big implications for international telecommunications regulations will be in 2014 in South Korea.