Achievements
AU Ranks No. 3 Nationally for PMF Finalists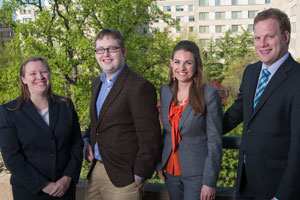 Last year, American University rose from No. 7 to No. 5 nationally for its number of Presidential Management Fellowship (PMF) finalists. This year, AU has one-upped itself, rising to No. 3 in the national rankings for both finalists—of which AU had 19—and semi-finalists—of which AU had 45. This year's finalists, announced in early April, hail from all of AU's schools and colleges. 
"We have some outstanding candidates," says PMF and School of Public Affairs career advisor Robert SanGeorge. SanGeorge helped prepare all of AU's semi-finalists and finalists for the application process. "This year, they came from all AU schools … and we're glad they did, because we would like to see that kind of diversity and interest campus-wide in the program."
For more than 30 years, the PMF program has attracted advanced degree-holders for positions within the federal government, including the Department of Homeland Security, FEMA, USAID, and the Department of Transportation, among others. The application is a two-step process, beginning with an online test that gauges an applicant's psychological profile; 12,120 people took the test nationwide this year, according to PMF's website. Of that pool, the program selects roughly 1,600 semi-finalists who then participate in an intensive series of interviews and group activities. Selected finalists are then able to apply for jobs specifically set aside for them, with two-year appointments, competitive salaries, and benefits; PMF finalists—there were 663 this year—also receive "additional mentoring and training that is not available to other people," notes SanGeorge. He trained 'AU's semi-finalists with several workshops, one-on-one meetings, and various online resources.
"You are being groomed to be a future federal manager at a significant level," adds SanGeorge. "Once you're finished with those two years and you transition into regular federal employment, you have PMF on your resume, and that really is a big deal for people who want to pursue the federal government as a career."
Of the 19 AU finalists, seven are from the School of International Service, five are from the Washington College of Law, three are from the School of Public Affairs, two are from the College of Arts and Sciences, one is from the School of Communication, and one is from the Kogod School of Business. But coaching for these students and alumni doesn't stop after they have been named finalists: The Career Center will continue to provide guidance on crafting a federal resume, reaching out to certain federal departments, preparing for job interviews, and connecting with AU alumni of the program, SanGeorge says. 
Finalist Keri Sikich, SPA/PhD '13 and SIS/BA '02, is already emailing other AU alumni to discuss how she should present herself to various federal departments during the application process. Sikich, who studies juries and comparative legal systems, has taught many classes as an adjunct at AU. She hopes to parlay her background in public policy and experience working on Capitol Hill into opportunities with the Departments of State or Justice.
"It's a great opportunity, especially now that I've seen other friends of mine try to get jobs after their PhD—I see how hard it is to get into the federal system," Sikich says. "So it's not an opportunity that I plan on passing up. The government is certainly a great place for me to be."
Equally excited is Josh Jones, SIS/PhD '13, who, before attending AU, served a tour in Iraq during his four years in the U.S. Army and spent a summer with the United Nations High Commissioner for Refugees in Serbia. His experience in the Army was not only the inspiration for his dissertation, but the leadership and time management skills he learned while in the service became invaluable during the PMF application process, he says. 
"I think the benefit of the military is that it gives people the opportunity to lead, to take responsibility for people and goals in ways that may be harder to come by in other forums," says Jones, who is keeping an open mind regarding which federal positions may interest him. "To paraphrase Teddy Roosevelt, I want to 'work hard at work worth doing.' I would like to find a position in which I can support a department or agency in accomplishing its mission and to add value to the organization."
Similarly liberal about his ideal federal department is Brian Thompson, CAS/MEd '11, who became a teacher after being deployed to Afghanistan while serving three-and-a-half years in the U.S. Army; a care package from his mother with the book Teacher Man by Frank McCourt inspired him to join Teach For America (TFA) when he returned to the U.S. Thompson received his master's through TFA's partnership with AU; has taught 10th-grade world history at Cardozo High School in Washington, D.C., for the past four years; and has been awarded with numerous teaching awards from the District of Columbia Public Schools for his success with students. Thompson hopes to land a position with the Department of Education or Veterans Affairs, but he doesn't plan to limit himself.
"I think I've always been committed to public service; in the military and in teaching, I've kind of been the boots on the ground, whether in the classroom or the battlefield," Thompson says. "I'm just looking for something that blends my passion, and an opportunity to do something meaningful. I'm not looking to push paper all day long—I'm looking for an agency that will provide me with opportunities to grow and do great things."
Congratulations to all of AU's 2013 PMF finalists: Ann Mangold, Anna Naimark, Brian Thompson, Colin Bishop, Elena Green Feroz, Erin Swetland, Jason Whittle, Jennifer Flowers, Jessica Torres, Josh Jones, Kathleen Larkin, Keri Sikich, Lauren McCarty, Nicholas Beadle, Nicholas Fechter, Robert Brodell, Samuel Hedlund, Sheen Munshi, and William Daming. 
The application process for the 2014 PMF program will begin this fall, and will be open to students and alumni who hold advanced degrees earned between December 2011 and August 2014.