Achievements
Fulbrights, Clinton, Emmy: AU Soars in 2012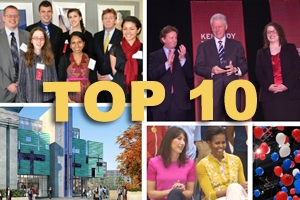 From our rising academic standing to the exciting work of renowned faculty and continued success of students, 2012 proved to be an impressive year at American University.
We've compiled a list of the most important stories of 2012 as a tribute to AU's wide-ranging accomplishments.
1. Record Number of Fulbright Scholars—AU celebrated a new school record with 14 Fulbright Scholars and one alternate. Eight scholars earned research grants. One student secured a Critical Language Enhancement Award and a Fulbright grant. Four students joined the Fulbright English Teaching Assistant Program. One student landed the new Fulbright Public Policy Fellowship Program.
2. Valuing Diversity—AU opened the new Center for Diversity & Inclusion to enhance LGBTQ, multicultural, first-generation, and women's experiences on campus. During this year's faculty retreat, professors emphasized the importance of diversity and shift in demographics of the college-going population.
3. Rankings—AU climbed the charts. The Princeton Review determined that American University has the most politically active student body. U.S. News & World Report ranked American University #77 among national universities. The Kogod School of Business moved up five spots from 2011 in the Bloomberg BusinessWeek 2012 "Best Undergraduate B-Schools" ranking. Kogod placed No. 58 in the country.
PHOTOS: A look back at 2012 at AU in images

4. Election 2012—Thirty-four students kicked off 2012 by traveling to New Hampshire to cover the GOP primary as part of their class. In November the most politically active student body celebrated election night with fanfare at watch parties on campus. AU experts provided insight on the presidential race during the campaign season. 
Director of the Center for Congressional and Presidential Studies James Thurber thought President Barack Obama winning the "ground war" was vital to his re-election. A national poll conducted by AU Professor Jennifer Lawless and a professor at Loyola Marymount University found college students showed strong support for Obama.
5. Partnerships—AU and Teach for America joined forces to offer new graduate degree programs to help shape U.S. education reform. Internationally, AU committed to rebuilding higher education in Myanmar with the Institute of International Education. Secretary of State Hillary Clinton announced the co-founding of the U.S.-Pakistan Women's Council by American University and the U.S. Department of State.
In D.C., AU Wonks enjoyed a night of baseball on August 31 to celebrate a partnership with the Washington Nationals. President Neil Kerwin threw out the first pitch of the game!
6. New Faculty and Deans—AU welcomed 24 new tenure-line faculty members, with research interests ranging from behavioral neuroscience to public health. Director of AU's Center for Behavioral Neuroscience Terry Davidson's findings showed that diets high in saturated fat may cause changes to the brain.
Barbara Romzek became the new dean of the School of Public Affairs and AU selected Jeffrey Rutenbeck to lead the School of Communication. Meanwhile, American named Carola Weil the inaugural dean of the School of Professional and Extended Studies.
7. New Projects—In keeping with campus transformation efforts, AU announced plans for a state-of-the-art broadcast facility for WAMU 88.5.  On campus, the restoration of the historic McKinley Building into a high-tech hub for communications made strides thanks to generous alumni support.
Work is underway for the "Building a Better American" construction projects including the North Hall adjacent to the President's Office Building, the expansion of Nebraska Hall, and the renovation of the McKinley Building.
8. Learning from Leaders—President Bill Clinton returned to AU to accept the first WONK of the Year Award. Secretary of Education Arne Duncan joined New York Mayor Michael Bloomberg, Los Angeles' Antonio Villaraigosa, and Chicago's Rahm Emanuel to discuss education reform in U.S. cities. First Lady Michelle Obama and Samantha Cameron, wife of British Prime Minister David Cameron, hosted a mini-Olympics event at AU in March.  
9. Honors and Awards—AU leaders garnered significant recognition this year in their fields. Peers honored Mary Kennard, chief legal counsel for AU and vice president, for her long service to higher education with the 2012 Corporate Counsel Achievement Award. David Swartz, assistant vice president and chief information officer at AU, received an EDUCAUSE leadership award for his service to the information technology profession.
David Rosenbloom, distinguished professor of public administration at SPA, accepted the 2012 Whittington Award for Excellence in Teaching and Robert Durant, professor at SPA, received the prestigious Dwight Waldo Award from the American Society for Public Administration. The Council for Advancement and Support of Education and Carnegie Foundation named Patrick Thaddeus Jackson, associate dean of undergraduate education for SIS, Teacher of the Year for the District of Columbia.
10. Brand Recognition—AU received an Emmy for best single commercial for its "All the Wonks are Talking" ad from the National Capital and Chesapeake Bay Chapter of the National Academy of Television Arts and Sciences. It also received nine national CASE Circle of Excellence Awards from the Council for the Advancement and Support of Education.