Television & Film
A Lens on Climate Change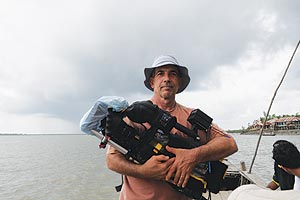 No matter what direction he pointed his camera, Larry Engel saw water.
In many parts of Bangladesh, where the School of Communication professor spent two weeks in August working as director of photography for a documentary on climate change refugees, it is impossible to discern where the sea stops and land begins.
"Anyone who thinks that climate change isn't real, or it's something that's in the future, just go to Bangladesh," Engel says. "Wherever you look, there's water. If there's a home off one of the main roads, instead of a front and back yard, you basically have two ponds."
In this Water World, the title of the film that aired on NOW on PBS, water is omnipresent. Working in the south Asian country was among the most enlightening, challenging, educational, and uncomfortable experiences of his career, says Engel. 
The documentary focuses not on the science of global warming, or the controversy that surrounds it. Rather, it explores the effect climate change already is having on the impoverished people of Bangladesh, a country the size of Wisconsin with 150 million people—roughly half the U. S. population.
"The idea was to see how people were coping," says Engel, who worked with his longtime friend, director Amy Bucher, on the project. "Instead of trying to fight the water, people are trying to live with it."
Engel and the crew travelled throughout Bangladesh—the world's most densely populated country, according to the United Nations—speaking to climate change experts, architects and engineers trying to devise solutions to the rising water, and the people whose lives are impacted by it firsthand.
"The country is mostly at sea level, and several major rivers come through it from China and India," Engel says. "It's sort of like a drainage area for the Himalayas. It's not just sea water that can be a problem. Rain and runoff from these massive rivers cause flooding."
Maria Hinojosa, NOW senior correspondent on the project, reported that the earth's rising temperature is increasing the frequency and strength of monsoons, one of which devastated the country earlier this year, causing the displacement of 35,000 people.
In one segment, she visits a makeshift village of tin and wood huts perched on a narrow strip of land. Children must wade through water to reach boats that transport them to the nearest source of clean drinking water two to three times a day.

"It was a real eye opener for me," Engel says. "The people who become refugees are in some ways complacent. They seem to be accepting of their fate. Many of them said, 'What can we do?' They don't think in terms of greenhouse gases or the developed countries being the main contributors to the problem that they deal with on a day-to-day basis. They just know the flooding's getting worse, they're displaced more frequently and for longer periods. They live and die with it."

Capturing the story on film was a challenge in many different ways for Engel, who previously has won an Emmy for best cinematography. Simple tasks like finding electricity to charge camera batteries turned into gargantuan ones, and the oppressive heat and humidity took a physical toll both on the crew and its equipment.
"I worked on the Amazon before, but this was in some ways worse because there was no relief from the humidity or temperatures," Engel says. "Every single person on the crew got traveler's diarrhea and a cold. We had to take care to secure the equipment on incredibly rough roads. While it didn't rain a lot, there was water everywhere and it was extremely humid, so we had to protect the cameras and sound gear. We faced a lot of personal challenges."
Yet those obstacles and temporary hardships were a small price to pay, Engel says, in order to bring light to the magnitude of the problem.
"We talked to an expert on climate change refugees who said in the near future there's going to be migrations of people away from land being lost to the water," he says. "They will move to higher ground, and that means more and more people will be moving across borders. When you're talking about tens or hundreds of millions of people, there aren't any forces on earth that will stop that.
"Our hope is the film will have an afterlife that helps create change in the United States and other countries around the world."
See photos from Engel's time in Bangladesh in this photo gallery.