International
Studying Business Abroad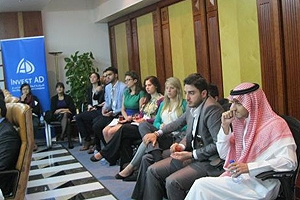 Maddy Brady, SOC/BA '13, had never traveled abroad. The self-described small town girl from Ohio decided that instead of taking a customary European trip, Dubai was the perfect destination to experience life beyond America for the first time.
"I was very nervous about going and about exploring anywhere outside of the United States," Brady said. "But it opened my eyes. It was one of the greatest weeks of my life."
Brady was one of 25 students that spent 11 days in the Middle East as part of Kogod School of Business professor Ghiyath Nakshbendi's class.
The Gulf Cooperation Countries course, part of Kogod's International Management Practices, provides undergraduate students with an opportunity to experience management styles and business practices in international and foreign organizations. The students visited Dubai, Abu Dhabi and Doha, Qatar, in the spring of 2013.
Students met with high-ranking executives from businesses such as Qatar Central Bank, Qatar Foundation, Invest AD-Abu Dhabi Investment Company, and American Business Council of Dubai. They also explored universities, museums, and mosques during their stay in the region.
Brady, a public communications major and marketing minor, said she and the other students benefited greatly from the hands-on business experience provided.
"Every culture is there because of the booming economy," Brady said. "I loved learning about the difference of doing business here and doing business in the Arab world."
Quintessential distinctions exist between the Middle East and the U.S. in business practices, especially apparent in banking, Brady added.
"Everything is based on personal relationships and trust [in the Middle East]," Brady said.
The trip, Nakshbendi thinks, also exposed students to the potential of working in the region in the future.
"I wanted to let these young scholars know about the possibilities in terms of job opportunities and internships in these countries," Nakshbendi said. "These are booming countries in terms of economic activity and they are very close to the United States as well."
Joan Hanna, SIS/BA '13, decided to take Nakshbendi's course to further her focus on international business and the Middle East.
"I'm glad I explored Dubai and Doha in a more structured way and that we had the chance to go on cultural visits," Hanna said.
She was encouraged by the number of women in high-ranking positions that met with the group in Doha and Dubai. One speaker also told the group, Hanna recalled, that more women were entering politics in Qatar.
"Women are breaking down barriers but it is a slow process," Hanna said. "Women need to be breaking out onto the political scene, the business scene, and the social scene. It needs to be a comprehensive breakthrough because it is all interconnected."
Hanna hopes to eventually work in the Middle East or closely with the Arab world.
"The people are so hospitable and brilliant and there is a lot of opportunity for growth there. I think the Middle East is going to become a huge player in the next 50 years."