Television & Film
Capturing the Sounds of Lincoln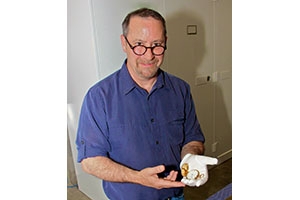 Greg Smith knows what the church pew Abraham Lincoln sat in sounds like.
"It still creaks, you know," he said, demonstrating in his chair how moving around in a pew could produce a sound.
Smith also knows what the bells of that church, St. John's Episcopal Church, sound like, as well as one of Lincoln's pocket watches, and the mantel clock that was in President Lincoln's office in the White House.
As the assistant sound designer for Steven Spielberg's new film, Lincoln, which opened November 9, Smith, an AU audio technology professor, immersed himself in what present-day sounds are left from the mid-1800s. But listening is nothing new for Smith.
"Listening runs through everything I do," he said regarding the many projects he is currently working on.
A veteran of the film industry, Smith was on the production staff at Lucasfilm Ltd. for five years, and worked on films such as Indiana Jones and the Last Crusade, Jurassic Park, and the Star Wars series. He has also recorded audio for several IMAX films, including Blue Planet and The Dream is Alive, and two National Geographic films: Secrets of the Wild Pandas and Inside the White House.
Smith said he recorded about 50 sound effects for Lincoln, one of his favorites being the pocket watch that Lincoln carried. At the Kentucky Historical Society in Frankfort, Kentucky, where the watch is located, Smith built a special box to put it in so he could record its ticking.
With Lincoln out in theatres, Smith turns his focus to his plethora of projects, one being a Christmas charity project—a CD of Christmas music performed by Washington, D.C., bands that local charities can sell in 2013 to raise money.
"It's going to be something like We are the World with D.C. bands," he said.
About 10 different bands will cover holiday songs in different styles from opera, to punk, to reggae. Smith said he plans to bring different AU departments together to work on the project. He is working with the Washington College of Law to do the contracts, and said film students might do a documentary on the CD's production.
"I like working cross-departments," he said. "This will benefit everyone—the students, staff, and community."
Opportunities like working on the Christmas charity CD are something Smith said he feels he has a responsibility to make available to students.
"We owe them more than sticking them in classes," he said. "They need real-world experience."
One way in which Smith is translating that experience to his audio technology students is by setting up the first dedicated internship for AU sound engineering students at NPR. Smith said the program has been a success so far, and is currently accepting applications for the spring semester. He is working on a similar program with Omega Studios in Rockville for the spring semester.
"Internships are huge for the audio technology department," Smith said. "They're invaluable because students are going to have a better chance at leaving AU and walking into a job."
Smith knows what it feels like to be a student at AU. He received his master's degree in film and video and master of fine arts degree in film and electronic media from AU, both in 2010. Smith was working on his degrees at the same time that he was an adjunct in the School of Communication, which he said was an odd experience.
"Sometimes I was being taught by my colleagues," he said. "I felt I had to work extra hard if I knew the teacher."
Smith said the experience helped him become a better teacher because he understands where the students are coming from and the pressures they have.
"I hadn't taken a test in 30 years," he said. "After my first test in my master's class, I called my son, who is in high school. I told him, 'I got the test and immediately my mind went blank.' And my son laughed and said, 'Yeah.' Then I said to him, 'I calmed myself, took the test, turned it in and had no idea how I did.' He laughed and agreed again."
Now that he has his degrees, Smith said he is working on finishing another project that has been four years in the making—his seventh album, So It Was. As a musician and composer, Smith has his own production company, Pros from Dover Productions.
"If I could do one thing all day, it would be sitting in a studio and recording music," Smith said.
This love for sounds and listening came from a very big family where everyone shouted for attention, Smith said.
"I learned early on that you learn more from listening than talking," he said, laughing. "Sounds happen around us all the time. How can you not make a career out of that? It's free. It's listening."
Smith will be giving a lecture on how and where he recorded sound effects for Lincoln in the Weschler Theater on November 29 at 2:30 p.m.