Research
Wading for the Answer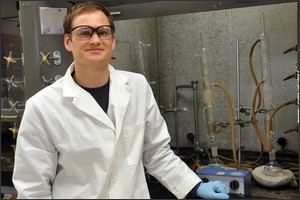 One might say that Nicholas Connor really knows how to go with the flow—literally. After a diverse array of professional experiences, this Wisconsin native landed in the laboratory of AU professor Stephen MacAvoy, where he is currently conducting research on the sources of pollutants in the Anacostia River. 
Connor completed his bachelor of science degree in biology at the University of Wisconsin–Milwaukee. Like many students, he decided to travel after graduation, visiting New Zealand, Australia, Tasmania, Fiji, Hawaii, and California. When he returned stateside, Connor held a slew of jobs in a variety of fields that eventually brought him to American University, where he is pursuing an MS in environmental science. 
Connor worked as a seasonal field biologist for the National Parks, holding positions as a black bear field researcher in the Great Smoky Mountains and completing population surveys of woodpecker, lynx, and goshawk at Helena National Forest. He also spent time in Alaska surveying pollock. "You know the 'Deadliest Catch' boats?" said Connor. "Picture those boats—only with fish, not crab." (A pollock is a fish whose tasteless meat is used as a filler in fake crab meat, chicken nuggets, etc.) 
Connor said he enjoyed his time in the field, but after a few years, he was ready for a change. "Field biology is nice," he said, "but I was either living in the woods for five days or on a boat for 30 days at a time. I decided I needed a change." 
Afterwards, Connor worked in surgical consulting for roughly five years. "It was more the medical part of science," Connor said. "I recently decided that it was too far away from the environment. I wanted to be able to do something that keeps me in the city but allows me to be working with the environment." 
In looking at the industry, Connor realized that he was interested in environmental consulting, which encompasses areas such as risk assessment and remediation (e.g., cleanup of toxic waste) and typically requires an advanced degree. 
"It all happened at the right time, because my wife was starting her residency at John Hopkins and we were moving," said Connor. "We just decided, 'Let's just be broke together."
Connor said that when searching for a master's degree program, there are many different degrees that allow you to focus on a lot of different areas. He was intrigued by the research going on in several different programs. One, in Rochester, focused on the developed environment and bordered on environmental engineering. Another, at UMD, looked at using vines and green canopies to save energy. Finally, at AU, his interest was piqued by MacAvoy's work with the Anacostia. 
"All three of those were interesting to me, but I got along with Dr. MacAvoy best," Connor said with a laugh. "I liked him up front because he was the only one that actively engaged me. He said, 'Here's what I'm doing, here's what you could do, and I'd like to see you here.' He knows his stuff and he's really intelligent. He's really dedicated to working in the D.C. watershed area. This is a long-term project for him." 
Although quite different from his experience as an undergraduate, Connor says he is enjoying his time at AU. He likes the smaller class sizes, and he has noticed how open and engaging the professors in the Environmental Science Department are. "I really see a lot of student access to professors, and professors are really willing to bring any student into the lab who is interested in their research and help them further their interests. I think that's one of the things I like most about AU." 
Connor's research with MacAvoy focuses on the anthropogenic sources of pollutants in the Anacostia. Every one to two months, they go into the field to gather samples from three sites: one upstream, one midstream, and one downstream. Samples include water with particulate matter, sediment, and mussels. 
The sediment samples are dried in an oven and put through an extraction process. Afterwards, they look for bacterial communities. If they can determine what types of communities are present, they can sometimes correlate the various communities to certain pollutants. 
The water samples are filtered through glass filters. The suspended particulate matter is put through an extraction process and analyzed through gas chromatography and mass spectrometry. 
Mussels collected from the three sites are dried out and subjected to the same extraction process. Since mussels are bivalves, they filter the water in their environment, and the materials that they filter are held in their tissues. When the fatty acids that make up the mussels are analyzed, differences can be seen between mussels living in different environments. 
The results from these tests are compared to the baseline levels of organic carbon, nitrogen, and other materials in the Anacostia, which have been determined by MacAvoy in his research over the years. "Once you have the baseline," said Connor, "you can start to determine where the 'extras' are coming from." 
Their research has some preliminary results, but Connor said it's too early for correlations. One of the things that he said is a possibility is that some of the increased sodium levels seen in the river could be coming from runoff on concrete. Increased nutrients, such as nitrates and phosphates, may be correlated with sewage, along with the high estrogen levels seen throughout D.C.'s waterways. Connor said he and MacAvoy are examining these questions: "How much of these nitrates are there in the system? How much could be coming from the sewage outflows, and how might they be affecting the organisms living in the river?" 
After Connor completes his degree, he is hoping to get into environmental consulting by working with companies that do environmental risk assessments for industries.

"For example, if you are putting up a wind farm, before you put up the farm, you have to do surveys on how the turbines will affect the bat population," Connor said. "Or, if you're building a factory, you need to know how the runoff from the factory will affect a stream that runs through the property." 
Connor says he would also like to get involved in the sustainability work done by these companies by putting up solar panels and green roofs, and finding ways to close energy loops. 
"If I'm doing that in five years," he said, "that'd be great."