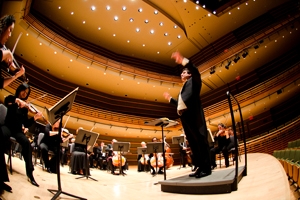 Listening to a rapturous orchestra performance is one of life's great pleasures. But right now thanks in part to technological change and the economic downturn, performing arts organizations such as orchestras are facing challenges that could impact their futures.
To help address the situation, the William Penn Foundation recently awarded American University's Arts Management Program a three-year, $350,000 research grant to study the challenges facing performing arts institutions.
Andrew Taylor, an assistant professor of arts management at AU, is the principal investigator for the project. AU, the William Penn Foundation, and AEA Consulting will partner to examine three leading Philadelphia arts organizations: the Chamber Orchestra of Philadelphia, Opera Philadelphia, and the Pennsylvania Ballet.
A Changing Landscape
The post-World War II economic boom in the United States greatly enhanced the performing arts. From the 1950s to the early 1990s, demographic growth and economic prosperity fostered a healthy arts community, Taylor says. And arts scenes flourished beyond established creative hubs like New York City and Los Angeles.
"All of the pieces that were part of the original health and success of the industry are now shifting. So our goal is to observe and learn how these organizations try to cope," Taylor says. In a sluggish economy, traditional funding sources are often scarce. "Individual giving is still pretty good. Although after the market crash in 2008, a lot of people just held their cash, for good reason. Corporate giving has dropped like a rock," Taylor says.
In addition, new forms of entertainment are now competing for the public's attention. "[Leisure time] is now more fractured than it ever was. So the idea of going to a two-hour concert on Friday night at 8:00 o'clock is more complicated than wanting to watch a movie right now for $8 a month," Taylor explains.
Performing arts organizations frequently utilize large, professional infrastructures, built around strong legacy values. So adapting in a shifting environment is not easy, Taylor says. "These organizations didn't change as fast as they might have. It's not unique to the arts, but it is certainly obvious in the arts because they are big, public institutions."
While studying these Philadelphia-based groups, AU and its partners could discover valuable lessons in best practices for other institutions as well. Across the country, arts organizations are besieged. The Minnesota Orchestra has been embroiled in a labor dispute and lockout. New York City Opera tried a last-ditch fundraising effort before filing for bankruptcy earlier this month.
Making This Wonderful Thing Happen
Taylor came to AU in 2012 from the University of Wisconsin-Madison, where he served as director of the Bolz Center for Arts Administration in the School of Business for more than a decade. He was previously president of the Association of Arts Administration Educators, and is a consulting editor for The Journal of Arts Management, Law, and Society. He also writes his own blog on the business of arts and culture.
Growing up outside of Boston, Taylor's mother was a music teacher and his father was a physics professor. And he views his current work through that same lens. "This is sort of the physics of music. How do you bend reality to make this strange and wonderful thing happen?" he asks. Though he's dabbled in music—recreationally playing the French horn and piano—he's now focused on creating a healthy environment for artists and audiences. "I'm just amazed by what people can do in terms of expression."
Program Achievement
Though still in the early stages, Taylor expects to consult with fellow faculty members in the Arts Management Program and other AU programs and departments. He'll also get assistance from one Arts Management Program graduate student. Taylor will work closely with AEA Consulting founder Adrian Ellis, former executive director of Jazz at Lincoln Center in New York.
The research grant comes at a noteworthy time. In 2014, the Arts Management Program will celebrate its 40th anniversary. Sherburne Laughlin, director of the Arts Management Program, says this is the largest grant the program has received in recent memory. "This grant is important to the Arts Management Program because it will deepen and enrich our understanding of how durable change occurs," she says.