Research
How Healthy Are D.C. Public Schools?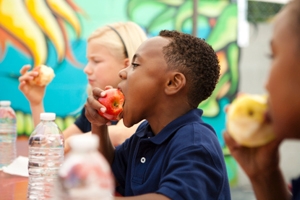 Professor Stacey Snelling wants people to be healthier. It's the motivation upon which she's built her career.
As a registered dietician and associate dean in the School of Education, Teaching and Health at American University, Snelling is charged with showing people how to improve their lives and better communicate about health.
Recently, Snelling has been examining the intersection of student achievement and health in the District of Columbia Public Schools. In 2010, the DC Council passed the Healthy Schools Act.

Through a series of grants from Kaiser Permanente, Snelling has been researching the policy's progress. She sat down to talk recently about the impact of the act, what her initial research is showing, and why kids might not like sweet potatoes.
AU: What is the D.C. Healthy Schools Act?
SS: With the rise of childhood obesity, school districts across the country are responding with policies to try to create healthy environments in schools. Given the mantra that healthier students are better learners, we need to incorporate healthy practices within schools. The D.C. Healthy Schools Act is not just a way to address obesity, but it's really another strategy to improve academic success.
AU: How did you get involved in researching the D.C. Healthy Schools Act?
SS: In 2010, I became very involved with the Office of the State Superintendent of Education, which is responsible for implementing the D.C. Healthy Schools Act. I knew back then that they needed to monitor. Through grants, I have instituted continuing evaluation of the implementation and impact of the act. We look at what is changing in school environments to provide students with healthier schools.
AU: Why is monitoring these types of programs important?
SS: Monitoring must be part of any good policy implementation. Otherwise we don't know the effect the policy is having. So any type of intervention, be it a policy or a program, we need to monitor and provide feedback. In Washington, D.C., and around the United States, there's not a lot of evaluation going on in policy.
AU: Why is that?
SS: Well, policy is hard. Policy creates the environment, but it doesn't make you or I change. For instance, within the D.C. Healthy Schools Act there are a number of provisions for nutrition and cafeteria offerings. They have to serve a different fruit every day of the week. Two days a week it must be fresh fruit. They have to serve local products, etc. But we've done consumption studies, which ask whether the kids are actually eating all this fresh food. What our numbers show is that for say, sweet potatoes, about 11 percent of the kids consume them.
AU: How can kids not like sweet potatoes? They're practically all sugar.
SS: When we offered students a chance to vote on whether they wanted roasted or pureed sweet potatoes or sweet potato fries, we saw consumption go up to 30, 35 percent. That was because the students were engaged. The policy creates the opportunity for students to have more access to healthy food. But the policy alone is not going to make them eat more fruits and vegetables. We need to educate the students and involve them in this process.
AU: What data are you collecting from schools?
SS: The school health profile is a required instrument that needs to be completed by every D.C. public school. We have two years of data from over 200 schools. What the profile includes is everything from how many nurses do you have, do you use the OSSE's physical education and health standards, how many physical education instructors do you have, how many times a week do you serve fresh fruit, do you have a school garden, do you have a local wellness policy, etc.? So it's an enormous amount of data.
AU: What is your initial research showing?
SS: Essentially where schools are gaining points is in the school nutrition. Where they're losing points is in the number of minutes of physical education and health education. The act is very ambitious in saying that every elementary school child should get 150 minutes of P.E. a week. But you'll see they're not even a third of the way to meeting that. These kids are getting 45 minutes a week at the elementary school level.
AU: Why is this research important?
SS: It's obviously very important to me. Part of the mission of the university is to be a part of the community in which we live. So this is the best example of a community-based research partnership.
AU: What else needs to happen for the D.C. Healthy Schools Act to be successful?
SS: Nowhere in the act will you see a mention of teachers. But it is my contention that teachers are our role models. We need to engage them in this conversation. They become our spokespeople. Me going into a school and doing this is not as powerful as one of their colleagues standing up there and talking about it.