Research
The Artist as a Sociologist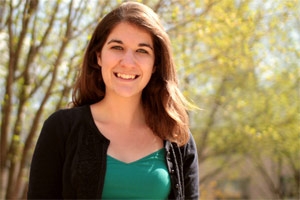 AU graduate student Caroline Duchin speaks Spanish in all of her classes, so when it came time to present the research paper she wrote in Spanish at the Robyn Rafferty Mathias Student Research Conference in English, it required a bit of an adjustment. As part of the Spanish: Latin American Studies graduate program, Duchin's classes each semester are taught completely in Spanish. "When I have to write something in English, it's often the first time I've done so in months."
In one of her classes, a Latin American documentary film course, Duchin was introduced to a traveling theatre project curated by artists Lola Arias and Stefan Kaegi called "Parallel Cities," which explores the lives of those who perform the tasks that keep cities running yet often go unnoticed. Two particular segments of the project, "Factory" and "Hotel," inspired Duchin to delve deeper. The pieces are recreated in each of the cities the project visits, including Berlin, Buenos Aires, Warsaw, and Delhi, and no city's segments turn out the same. "For 'Hotel,' Arias interviewed maids in each of the cities and created experiences for participants to learn about a hotel maid's way of life there," says Duchin. "She focused on the idea that art couldn't be exported from country to country. She wanted it to be different in every single country."
Participants visit actual hotels and factories as part of the exhibitions. Factory workers take participants in a group through the facility and talk about their personal experiences working on a line. For "Hotel," participants go to an actual hotel and are presented with five room keys at the reception desk. They are instructed to adopt the role of a maid and visit each of the rooms. Instead of cleaning, participants are asked to pull a string, look under a pillow, or peek inside of a chest of drawers to find photos, videos, and voice recordings of the maids. "It's about the kinds of things people forget. It's learning about these people's everyday lives," says Duchin.
Duchin ended up writing a paper, "Behind the Scenes: 'Parallel Cities,' the Artist as a Sociologist," for the class, and her professor encouraged her to submit it to the research conference. "I got only an introduction to the project in class, and I wanted to do more research," says Duchin.
She couldn't experience the art on her own, so she read interviews with the contributing artists, media coverage from the various countries the project visited, and a book by Arias related to the exhibition. "That's one of the great things about taking classes," she says. "You can start something within the time constraints of the classroom, and then continue studying it afterward if you're interested in learning more."
When it came time to present, she knew it would have to be in English, so she reviewed her research again beforehand. "The experience of presenting this kind of information made me realize all the kinds of things I could add and look into," she says.
Presenting to a scholarly audience also prepared her for a presentation she'll give about her research in Argentina this summer. She's spending four weeks there with help from a College of Arts and Sciences research grant funded by the Robyn Rafferty Mathias Fund to study women's rights in Salta. In the spring of 2015, she'll present her research at the student research conference at AU. "After presenting at the student research conference this year, I think I'll have a better grasp on how to do it next year when I present my own international research project," she says.