Television & Film
Development & Storytelling Through Film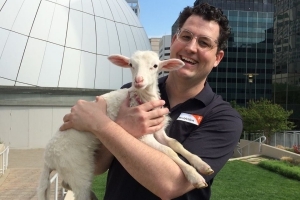 American University (AU) graduate student Brian Duss has a passion for doing development work and a keen interest in telling powerful stories. Through his work at the World Vision organization, a global Christian humanitarian organization that partners with children, families and their communities to reach their full potential by tackling causes of poverty and injustice, he does both.
In his role as Media Relations Manager at World Vision, he builds relationships with media members to help place stories that highlight the organization's work. He also works to build relationships with celebrities to become brand ambassadors for the group.
While working full time at World Vision, Duss is also working towards his Master's degree in Film and Media Arts at AU School of Communication (SOC). "One of the most powerful ways to educate and move people to action is through powerful storytelling, so I felt like AU's film program would be a perfect way to strengthen my ability to do effective relief and development work I do with World Vision," Duss said.
He became interested in doing development work because of his own family history and background. "As a Christian and a first generation American whose father was born in a displacement camp post-World War II, I'm especially sensitive to issues of refugees and serving those who are most vulnerable," Duss said. "I take the Bible seriously when it says that to whom much is given much is required, and that faith without works is dead."
He has blended his career with his classwork for his Master's degree. For one of his independent studies, he worked on a documentary, Not By Sight, which tells the story of a 90-year-old blind Palestinian woman who runs a school in East Jerusalem for blind women and girls. Duss also got permission from his professors to miss a class from time to time so he was able to travel overseas for work. He shot this video in northern Iraqi Kurdistan at a refugee camp.
SOC professor Bill Gentile has worked directly with Duss at SOC and is one of his advisors for his capstone project. "I believe [Brian's] work with World Vision USA has fortified his innate faith and his sense of justice," Gentile said. "As is the case with many of our exceptional students with whom I have had the honor to work, I have learned as much from Brian as Brian has learned from me."
Because of his full-time work and travel commitments, Duss has taken ten years to complete his degree and will graduate in May. He is currently working on his capstone project, the pilot for a TV show called Puppets in Paradise.
"People of every age seem to love two things; puppets and travel to vacation destinations," he said of why he is developing this pilot episode.
He said his capstone is a cross between an Anthony Bourdain style travel show and Triumph the Insult comic dog. "Basically, imagine if a snarky German muppet had his own show on The Travel Channel," Duss said.