Communications
High School Students Discover the World of Communication at AU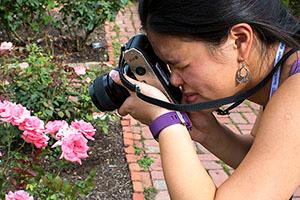 Discover the World of Communication (DWC) is a program that gives students in grades 9 through 12 a chance to see the different aspects of the communication industry. This year there are 655 students attending the program, and there are students from 18 different countries, including India, Indonesia, France, Belgium, China, Colombia, Argentina, Brazil, and more.
In the program, students get to write scripts, shoot and edit film, write news stories, build a digital portfolio, and learn from American University (AU) School of Communication (SOC) faculty and communication professionals.
Students can choose from many different courses in Film, Video and Photography; Writing, Journalism, and Broadcasting; and Communication. Some of the classes include sports photography, animation, documentary filmmaking, flash fiction writing, broadcast journalism, investigative reporting, public relations, international communication, and many more.
"The classes are challenging and have encouraged me to think critically about concepts and policies from around the world. Some are structured where we cover specific content, and others are more creative and offer opportunities for collaboration," said Leah Goldberg, a student in the DWC program.
Along with their classes, students also have the chance to explore D.C and visit local attractions including the National Zoo, Smithsonian Museums, Georgetown, and the National Cathedral. They get to view live television and radio broadcasts at local studios, such as NBC4, ESPN Radio, NPR, and more. Students have also been able to cover a Nationals baseball game from the press seat.
Students' final projects include short films, animation films, video game design, and a portfolio of nature photography.
The director of the program, Sarah Menke-Fish, created DWC because of her love for teaching and helping students become excited about communications and digital media.
"Glenn Harnden, who was interim Dean of SOC at the time, stuck his head out his door and asked me: 'Do you think high school students would like to take communication classes here during the summer?' and I said 'yes!' because I knew that students could benefit greatly from a program like that," said Menke-Fish.
Many of the students who attend DWC in high school have come to AU to study in college. Some of them have even gone on to be a teaching assistant in the program.
"Spending a summer at AU through Discover the World of Communication opened my eyes to all of the exciting opportunities in D.C. and at American. Now I am a Public Relations major and a rising junior at AU. These positive memories and experiences through living on campus through DWC initiated my love for this school," said Amanda Warshaw, a current teaching assistant at DWC.
Those who attend DWC have a unique experience to dive into the communication world and gets hands on experience. They get the chance to use high-tech programs and equipment, refine their writing and editing skills, and learn about aspects of the industry that they never knew about.