Communications
Diverse Voices: Profiles in Leadership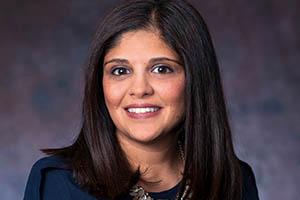 Pallavi Kumar is a full-time professor in American University's School of Communication and the director of the Public Communication division. Prior to teaching full time, Kumar served as a vice president in FleishmanHillard's social marketing practice in Washington, D.C., a vice president in Ketchum's healthcare practice in New York, and as an associate director of international public relations at Wyeth Pharmaceuticals in Philadelphia. Ms. Kumar received a Bachelor of Arts in public communication and public affairs from American University and a master's in corporate communications public relations from Georgetown University.
I was very entrepreneurial as a kid. In sixth grade I became an Avon representative - the youngest sales rep in Western Pennsylvania. I started selling Avon cosmetics in school to girls who had just started wearing makeup. I had lipstick samples I would set up every morning in homeroom. Everybody was excited to try my samples. I did pretty well because preteen girls loved to experiment with cosmetics. It was a great experience for me because it helped me understand audience targeting and customer demand, which, of course, are critical in PR.
I came to American University in 1990. I was going to work on Capitol Hill like every other political science major. Once I started taking some poli sci classes, though, I realized they were not my passion. I then happened to attend a Career Center panel and heard from a recent alum in the field. When I learned about what PR entailed — strategy, creativity and writing — I realized it was everything I like to do and it was what I was good at. So I decided to double major, and it was the best decision I made.
My parents didn't understand what public relations was. I don't even think to this day my mother quite understands it. As an Indian-American, that was not a career you get exposed to. Most of the kids I grew up with in our Indian community became doctors, lawyers or engineers. My sister went into business. Those were careers everybody could understand. But PR?
My dad is Indian, but grew up in Uganda. In 1972, the year that I was born, Idi Amin decided to expel all Asians from the country. My dad was one of the many whose whole family was forced to leave. We came to the United States as refugees.
My dad actually didn't meet me until I was almost a year old because I was in India with my mom and sister when the expulsion took place. It took that long for us to come here from India. It was very complicated.
One of the reasons we were able to come to the U.S. was because we had a family connection in Western Pennsylvania. There was a big Indian community in Pittsburgh thanks to the HıBi visas, and the demand for scientists, engineers and doctors. And since Carnegie Mellon was there along with the University of Pittsburgh and Westinghouse, Pittsburgh became a thriving Indian community. We were lucky to have two temples, which really were the lifeline for the community. It was important to have those cultural epicenters as I was growing up.
It's always been a challenge to be in a field where no one looks like you.
When I started working and got to a major agency in New York, there were two other South Asians there, which I actually felt was a lot! Even today I don't feel like there are many South Asians working in PR.
One day there was a lunch conference sponsored by the agency. There were only three minorities in the room, and strangely, the agency put the three of us together at the same table. The client was showing a video clip featuring a person of Indian descent. When the tape was over, the client started making fun of the guy in the video in reference to his ethnicity. Everyone in the room thought it was funny. But the three of us were shocked and appalled that this was being tolerated by the people in the room.
That was the tipping point for me. I was tired of being a minority in an agency where the client, somehow, was always right. Within a week, I put my resume up on a networking website.
Though, to its credit, the agency had hired an outside firm to do some diversity training. This was in 2000, when diversity training was not really common. One afternoon, the diversity training firm came up for training and asked our group to write down the perceptions we had of various minority groups. Then they asked each of us to share what we wrote down. When the trainer asked a high-level executive to share his thoughts, he panicked, as did the others. They were like, "We can't share this! No, we don't want to share." I could clearly see the panic in their faces. The trainers were like, "No, you have to. That's part of the exercise." But the trainers relented, and to this day I have always wondered what they wrote down. I don't think anyone was trying to be malicious, but for me it really illustrated how much of a divide there is in perceptions about minorities.
After the agency, I went to Wyeth, a major pharmaceutical company. And even though I didn't enjoy healthcare PR, I can't tell you how important it was for me to be with people of color. It was so diverse. Two months after I started, for example, there was the Indian holiday, Diwali. I remember walking into a conference room and one of the marketing directors was like, "Hey! Happy Diwali!" I was like, "Oh my god, that's amazing!" It made me realize how important it was to be in a diverse environment.
It was refreshing to not have to explain our customs to people.
It reminds me of this incident at the agency: I had been to a wedding over the weekend and came into work with henna on my hands. As I was talking and using my hands to gesture about something, my boss said, "Eww! Your hands are grossing me out." And I explained, "This is a traditional custom during Indian weddings." But I also apologized for my hands.
I got so used to kind of microaggression that after a while I just didn't think anything was wrong with it anymore. Only years later did I realize how that chipped away at me, having to defend and explain every custom.
As a professor, I often take my classes on field trips to agencies. We went to one large agency, and I guess they were having a diversity dinner later that week. The agency people kept trying to engage with the one African-American student in the group. They seemed interested in talking to him about a job there. He pulled me aside during the tour and said, "Professor Kumar, I would never work in a place like this. There's nobody that looks like me here." And he didn't want to be that sort of poster child, which was how they were making him feel.
Just recently I was sitting at a table with some industry professionals, talking about diversity, and I shared my agency field trip story. One industry representative, a white man, responded with, "Well that's his missed opportunity!
He should have just gone there and he should have just showed them. That was a lost opportunity for him."
"That's on him? He's 21. How do you expect a young person to go into an environment where there is no one that looks like him?" I countered.
But that's still the feeling of a lot of people today. They don't understand how hard it is to be a minority, having never experienced it themselves.
I do have hope for the future: Our graduate class last year was 54 percent diverse. Our undergraduate majors were 33 percent diverse. American University has been extremely intentional in recruiting from all backgrounds, no matter a student's ability to pay. Last year, and the year before, they were able to meet 100 percent of financial need. We've had more Pell-Grant-eligible students than we've ever had before. So American University has been very dedicated to making sure that the student population is more diverse as well as offering more opportunities to different populations of people. Many students are first generation and from all income levels, which I think is so important. I have many more students from Latin America now than I've had before.
I'm very open with my students about my own experiences because, first of all, I never want my students to feel alone. I'm very open about the fact that I had to work in college, I had to get loans, I was a Pell recipient, that not having a job after graduation was not an option ... those things. I could never afford to take photography in college because the fees were too high. So I understand what this generation of college students struggles with.
I'm very open with them about all of these things because I don't want them to feel like they can't do it. And I try to help them figure out ways to make it happen. Coaching them for job interviews, helping them with salary negotiations, introducing them to my network — that kind of counseling is important because that's what will keep them in the industry. Otherwise they're just going to give up. And there are plenty of my students who have given up — plenty — because they can't afford to intern after they graduate. And so many agencies insist on that even after students have done five internships during college. And then agencies wonder why they struggle with diversity. They need to create more pipelines for talent, and they need to guarantee a living wage.
Agencies need to be more deliberate about increasing diversity within our sphere because that is what the world looks like. It's what their target audiences look like. When you look at some of the big disasters that have happened, the Pepsi Kendall Jenner ad just as an example, that may never have happened if you had diverse people in the room. Clients are now recognizing the need to be more diverse, and for their agencies to be more diverse, to more accurately represent their brands. So it's come to a giant crescendo. There are bound to be more disasters, and when you bring people in the room to address them who reflect the rest of the world, that's how agencies will survive.
This chapter is excerpted from the book Diverse Voices: Profiles in Leadership. It was republished with permission. Copyright 2018 Museum of PR Publishing. The book is available through the PRSA Foundation.