Communications
Emily Martin Selected to be a 2019 POLITICO Journalism Institute Fellow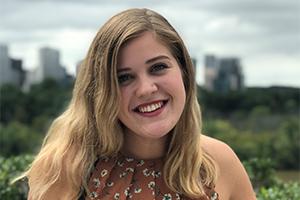 Emily Martin, a soon-to-be American University School of Communication (AU SOC) journalism graduate, has been selected as a 2019 POLITICO Journalism Institute (PJI) fellow.
The fellowship is a 10-day intensive program that focuses on supporting diversity in newsrooms around Washington, D.C. 12 students from across the country are chosen for the program and will be given the opportunity to write, edit, and produce content for POLITICO.
Martin heard about the program in the summer of 2018 and applied but was not chosen as a finalist. However, she attended a Marketing and Communication Day hosted by SOC and Kogod Business School where she was able to speak to Robin Turner, a political and financial journalist for POLITICO, as well as POLITICO editors. She received advice and recommendations on how to improve her application and applied again.
Martin said she applied for the program because, "PJI helps students hone their writing, researching, and reporting skills, and the program can help me figure out if this area of journalism is something that I want to pursue for the rest of my life."
Martin interned for the Durango Herald where she covered federal policy and reported on Congressional changes and updates to those policies. Her experience at the newspaper introduced her to policy reporting and sparked her interest in this field.
Along with having the opportunity to create content for POLITICO, Martin is looking forward to the mentorship aspect of the fellowship. Getting paired up with a professional will allow Martin to be immersed in the newsroom environment and receive knowledge and expertise from journalists.
"I am most excited for the opportunity to work directly with a POLITICO journalist who can help me improve my skills and give me advice," Martin said. "I am looking forward to using my expertise and skills to create stories that have a real impact."
Along with mentorship, the fellowship also helps foster connections between the students. The program consists of a diverse group of people and will allow Martin to learn from her peers' experiences and techniques.
Although the program stresses the importance of collaboration, it can also be a competitive environment. Martin is hoping to establish some connections with journalists and editors at POLITICO. Fostering relationships during this intensive program will allow Martin to network and find more opportunities for her future.
The PJI program will run from May 28 to June 7, 2019 in Washington, D.C.