Communications
A College Experience in Four Scenes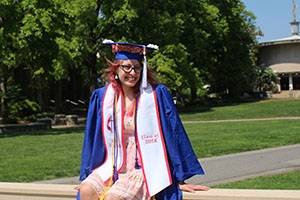 Scene one: A class of freshmen in their free Blue Crew T-shirts bursts onto campus confident and terrified. We have not yet grown into our lanyards but we've already got something special going for us: McKinley, the building we would someday call home, was still under construction when we toured campus for the first time. We, the 2018 class of the American University's School of Communication, bravely declared home as something we couldn't see yet. And what a home it has become. I remember recruiting my freshmen dorm family for my first film assignment in Visual Literacy: Letts Side Story, a musical parody capturing the infamous Letts-Anderson feud. And no matter what mistakes you made as an SOC freshman, know that it wasn't as bad as mine, because as a weather reporter for ATV, I wore a green dress to a green screen broadcast. 
Scene two: It's Sophomore year and at this point, all the other schools can tell who is in SOC because even our pick-up lines adhere to the Associated Press Stylebook. I still get teased about the time my friends walked in on me recording printer noises for Russell Williams's class, and this is how I know that SOC puts the home in homework, because for four years our only assignment was to find stories everywhere we went. The School of Communication makes me proud to say, once an Eagle, always a storyteller. Once an Eagle, always a question-asker, always a truth-seeker, always an Eagle that builds a nest big enough for everyone. 
Scene three: Junior year is where we learned that the most exciting communications job of all time is whoever got to send out the AU Alert that a bobcat escaped from the National Zoo. Junior year I had the most American University birthday possible: I turned 21 while watching the presidential election. 
Jump cut to now. 
Scene four: Senior year is where we learn that our worth is not measured on a 4.0 scale, but is instead measured by what we decide to do when a stray house cat arrives on campus. In four years, we went from AU building us a home to us building a home for honorary SOC graduate The Wonk Cat. We, the future journalists, PR directors, filmmakers, the future so many things, we are the first Communication class to graduate into the industry during its #MeToo movement. When I stumbled into AU as an awkward freshman I didn't know how to say those words out loud, but now, standing here with the next generation of media professionals, I have the strength and courage to say, yes, me too, my story is worth telling, and so is yours. And yours, and yours, and yours, because we all have stories that matter and a support network of dedicated SOC faculty that taught us some beautiful ways to tell those stories. It is now our responsibility to communicate the stories that might otherwise go untold, to listen to the stories that are not ours to tell, and to speak louder than the silence of complacency. 
The camera on this production of ours is about to stop rolling. We've only got about an hour of film left before we move on to our next production. The rest of our lives. It is my honor to say congratulations in the most SOC way I know how: Action! 
Emma-Claire Martin graduated magna cum laude with a BA in Film & Media Arts, with minors in Religious Studies and Queer & Sexuality Studies. She is a nationally ranked slam poet who served as President of Speak Fresh, AU's slam poetry team, President of the AU United Methodist Student Association, and treasurer of the Women & Gender Studies Honors Society. After graduation, Emma-Claire is flying to Kansas where she'll be the Assistant Director at a Methodist summer camp. In the fall, she'll be working as a volunteer for Mission Year Philadelphia.