Communications
MA Student Says Faculty and Peers Are Valuable Professional Network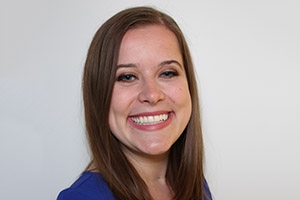 Emma Salter applied for an internship at The Reis Group (TRG) after receiving a tip from one of her professors in American University School of Communication's Political Communication MA program. One year later, she is on track to complete her degree and has a full time position as an Account Coordinator at TRG. She assists with research, media strategy and creative contribution to support projects including Alzheimer's research, pediatric healthcare and leadership programming.

SOC: What led you to American University and the Political Communication program?
ES: I knew that I wanted to pursue a postgraduate degree, but I wasn't sure exactly what I wanted to study. I have a passion for politics, but political science didn't seem to fit exactly. I came across the program and was immediately interested. When I visited AU and spoke to Molly O'Rourke and visited with current students, I was immediately sold.
SOC: What sparked your interest in wanting to pursue a degree in political communication?
ES: I didn't consciously think of political communication until I came across the program. It seemed like the perfect marriage of my undergraduate communications degree/interest and my burgeoning passion for politics - basically, the perfect opportunity to learn practical skills in a field of immense interest to me, and in the city that I love.
SOC: Talk about your experience working at The Reis Group.

ES: My time at TRG has been a really wonderful first job experience. I have been able to learn so much in a short amount of time. I have had the opportunity to learn a variety of skills that have helped me hone my interest, which is exactly what I feel a first job should do - I have been able to learn what I like doing and what I don't like doing, what I'm good at, and what I need to work on. I wear a lot of hats at TRG, which suits me well. I have been able to work in media relations, dig into research (primary and otherwise), practice some of my writing skills, and a plethora of other things in the public relations and healthcare arenas.
SOC: What do you hope to gain from working in a PR agency that is not focused on politics, given your degree program?
ES: I honestly didn't expect to end up in public relations - it sort of fell into my lap, and I took the opportunity to intern and learn a bit more about a field I wasn't familiar with, and here I am more than a year later, hired on as a full-time employee. I hope to continue exploring the myriad ways a communications degree can function in the professional world, but I also hope to further expand my horizons into a position that is more directly linked to an overtly political organization. I feel that my experience in PR has also given me a broad skill set that I am confident can be applied to a number of political communication positions.
SOC: How has your time in the Political Communication MA program impacted your day-to-day work at TRG?
ES: There are a number of practical things that have helped me in my day-to-day responsibilities at work - probably more than I can list. My writing comes into play most days, so I am thankful for all of the practice and guidance I got through the program. I have also used my critical thinking, understanding of research and the media, and a number of other skills from my classes and conversations with professors that have been invaluable. I feel that the time management and organizational aspects of being a full-time graduate student with a full-time job have been immensely eye opening. It is a lot to juggle, and has taught me a lot.
SOC: What is capstone project topic going to be? How and why did you select that topic?
ES: I am currently working on a capstone that analyzes views on abortion in the United States, specifically in the Millennial generation. This has been an area of interest and passion of mine for quite a few years, so it was of no surprise to my thesis advisor or classmates that I landed on this topic. It has been very interesting conducting my research and writing such a substantial piece. It has been a challenge, but an exciting one, and a great experience. I love the way that our capstone operates - it gives us the autonomy to create something that is important to us, whatever that may look like (whether it is a traditional research paper, a documentary, or a hybrid thesis/commentary, like mine). It really does give us the opportunity to become an expert in an area of interest that many of us will use to better ourselves in our chosen careers. I'm very excited to see how mine turns out - and to see the rest of my classmates' final projects.
SOC: What has been your favorite part of the Political Communication MA program?
ES: Wow, it is really hard to pick a favorite aspect of Poli Comm. I certainly had great experiences with all of the provided examples, and all contributed to my success in the program. The professors are simply incredible, and it continuously blows my mind how they are so successful in their careers, working, and still make it a priority to share their wisdom and expertise with us in class. And all make a point to be available to us as a resource. They make the program.
But it is also the relationships I have built with my cohort - a truly incredible group of people that I am excited to stay in touch with and watch as they continue to succeed in their careers. The networking is also invaluable. I first got introduced to my office through a faculty member at AU, and I have a number of colleagues who also got leads due to the relationship building/networking opportunities.
And, of course, the classes I took were almost entirely directly related to my passions, and it was awesome that I could discuss and learn with people who are as geeky about politics as I am. I learned so much from our conversations. One of the coolest classes I got to participate in was "Campaign 2016 U," in which we discussed the election in real-time. We appeared on WUSA9 and I had the opportunity to be on TV the night of the election. That is just one example of the unique opportunities we are afforded as a part of this program. I will miss it. I can't believe I'm almost done!