Communications
EMT By Day, Strategic Communication Student By Night: This is Pat McNulty's New Normal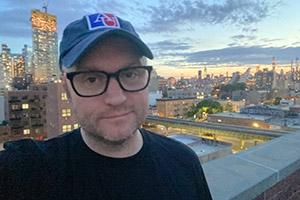 103 days. That's how many days American University graduate student Pat McNulty spent this spring and summer immersed in AU's online graduate program, and working in New York City as an Emergency Medical Technician. As the number of Covid-19 cases increased in NYC, it became clear to Pat and his wife, Abby, that they needed to make a tough decision about what to do. In a matter of hours, they decided Pat would continue responding to 911 calls for New York Presbyterian Hospital. In addition, that Abby and their children would relocate to avoid being exposed to the virus through his job. As his wife reminded him at the time, "This is what you do – this is your skill at this moment in time."  
The next morning, Abby packed up the minivan with their two kids and dog, and headed north to Rhode Island to stay with Pat's mom. Fortunately, Abby, as a Senior Creative Director at Audible, is able to work remotely, and his daughter, Ivy, and son, Calum could finish their schoolwork online.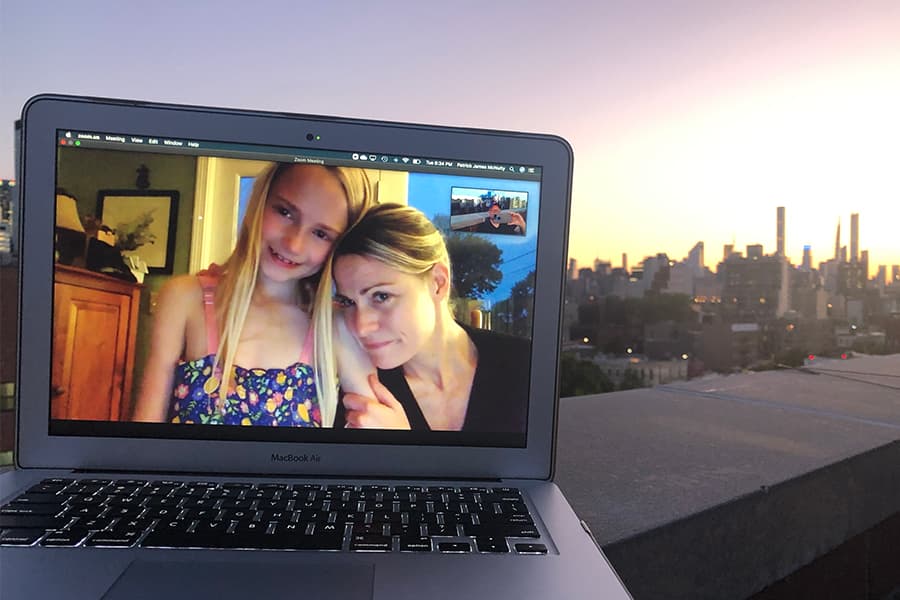 During the peak of the pandemic in NYC, all medical 911 calls spiked to more than 6,500 calls per day from an average of 4,000 a day, estimated McNulty. He developed a strict infection control regimen, so that he wouldn't get sick, and he didn't. Several of his colleagues did get sick, and fortunately recovered. As an EMT, McNulty isn't normally aware of the outcome of any patient after they are treated at the hospital. He was happy when he did learn the positive outcome of one call that was a particularly terrifying ride in the ambulance. That patient was in the vulnerable age group for the virus with severe symptoms and struggling. "That's the whole thing, some patients you think won't make it, and then you see 25-30 year olds that do go on a ventilator," he explained.  
Especially troubling to McNulty was seeing a disparity in care and lack of outreach in underserved populations. He said it was "very hard, especially working with people that didn't think it was real." As he explained, "it's not my job to be political. My job is to keep them safe." The father of two was determined to help people fight this virus, especially when they were so scared. 
McNulty kept a lapel pin his grandfather wore in World War II with the insignia "duty" on it and found comfort wearing it while out on calls. "While there weren't bullets buzzing by my head, I was psychologically terrified and felt like I was going into battle," he said. "The pin reminded me my grandfather had done this. This is my duty, and I put it on and went to work every day." 
And every day he drove by the makeshift morgues at Bellevue Hospital with the cooler trucks. And every day he walked the halls of the emergency rooms with patients spilling out onto the hallways on ventilators. And even amidst all the Covid-19 calls were the routine calls he continued to get – domestic violence, stabbings and accidents. 
And with the onset of protests for racial justice, McNulty was especially grateful to be actively studying communication at AU. With such a high risk of disinformation circling, he found his classes on crisis communication and communication theory quite visionary.  
He began his EMT journey as a high school student. Coming from a long line of public servants, it's not surprising Pat felt a call to duty. His grandfather was a colonel in the Army, his father was an organized crime detective, and his mother was a kindergarten teacher. After earning a Bachelor's degree in Criminal Justice and Psychology, McNulty moved to NYC to work in film and media production. An aspiring writer since the age of 18, he was fortunate to land jobs with high budget music videos and the Oscar nominated documentary "Capturing the Freedmans." He was fortunate to have many mentors that helped him hone his shooting and editing skills that he had taught himself and was able to work with  clients such as Sony Music, RCA Records, and Columbia.  
Despite working in the field of his choice, he felt the tug of duty again and returned to EMT work. "Nothing is as critical as going on a 911 call," he said. "It puts a lot of stuff in perspective." Looking to bridge his passion for writing with his commitment to public service, this EMT worker decided to pursue an online Master's Degree in Strategic Communication. AU was his first choice, he said, due to the rigor of the program, the sterling reputations of the professors and its history as a politically active institution. McNulty especially likes the deadline driven and hands on-program. He found Professor Joseph Graf's COMM-738 Research for Strategic Communication Class energizing as it opened up a world he had only thought mathematicians and scientists could be a part of. "Patrick seems to be remarkably centered, and handled the stress well," said Graf of his student. "I have the greatest respect for him and all the other first responders." 
McNulty kept in touch with his family mostly through Facetime. His daughter turned 8 while he was in New York and they celebrated via Zoom. He was able to reunite with them in Rhode Island on July 1. With one year completed, and one year left to finish his program at SOC, he plans to combine his passion for writing and service in his next chapter. This last one ultimately prepared him to face most any challenge with calm in the face of crisis.