Launching a Lifetime of Success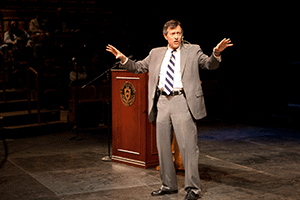 Professor Chris Palmer will share tips to advance any career at an American University School of Communication event open to students, alumni, and parents on December 15th, 2015 in the McKinley Building Media Innovation Lab. The event doubles as a launch for his latest book, "Now What, Grad? Your Path To Success After College"*.

Palmer's book offers many lessons that are not taught in the classroom, but can provide an advantage to grads seeking both professional and personal success. It gives advice on everything from big-picture strategies, to networking and job searching. For a preview, check out this video series.

During the event, Palmer will make an interactive presentation, speak with students one-on-one, and mingle with faculty, staff, and alumni. The event is free and open to the public. RSVP for the event

*All proceeds from the sale of this book will go to fund scholarships for students in the American University School of Communication who have overcome, or are overcoming, challenges and adversity in their lives, such as poverty, marginalization, racism, or personal tragedy.