Communications
Film Student Achievements of 2017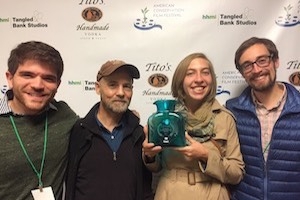 School of Communication film students produce high-caliber work that earns them festival screenings and awards while still in school. They work for high-profile, respected organizations helping to produce films that change minds and the world. Below are a selection or recent accomplishments.
Festival Screenings and Awards
Keeping the Potomac: The Politics of Water, created by the fall 2016 Environmental Filmmaking for Public Television class, won the American Conservation Film Festival's Student Film Award. The filmmakers were Tony Brunner, Chelsea Greene, Elizabeth Herzfeldt-Kamprath, Sarah Liebman, Doaa Nour, Raffi Paul, Sam Sheline, Xinyi Song, and Kent Wagner. The class is taught by Professor Mike English. Keeping the Potomac: The Politics of Water trailer.
Bradley Evans' capstone film Appassionato was selected to screen at Rosebud Film Festival, Richmond International Film Festival and Hollywood Black Film Festival.
Amberley Ellis' capstone project was pre-screened in New York at the Superchief Gallery in Brooklyn, NY in collaboration with two women skateboard organizations, and at NYU's Center for Latino and Caribbean Studies as part of its Women's Empowerment Series. She was also invited to screen the film at La Bombilla Verde in Vedado, Havana, Cuba. Vedado is the neighborhood that is most known for the growing skateboard movement in Cuba. Ellis was also selected by Alaska Airlines as a content contributor for their launch and promotion of their first flight to Cuba. The video and blog content reached 141,211 views on Facebook. Part of her contract with Alaska Airlines included a takeover of their Instagram for three days and a blog post, and she earned two all-inclusive trips as a content contributor to wherever in the world Alaska Airlines flies.
Alumnus Dustin Harrison-Atlas' documentary, New Chefs on the Block, was accepted into Cinequest, Hot Docs and AFI Docs and was nominated for best Documentary of the Year at Myrtle Beach International Film Festival.
Tribeca Film Institute will distribute and awarded $20,000 in funding to alumnus Brian Bello's project on refugee story-telling.
Wei Wang (Vicky King)'s thesis film, Colorful Hand Stories, which tells the story of a deaf Chinese artist, was selected by the 8th edition of the Festival Clin d'Oeilin in Reims, France. The festival provided Wang with access to the Festival's programming as well as accommodation and meals in France.
Ross Godwin's thesis film, 9 Seconds, was screened at the AFI Silver Theatre in Colorlab's annual Summer Shorts Film Contest where it was one of their Grand Prize winners.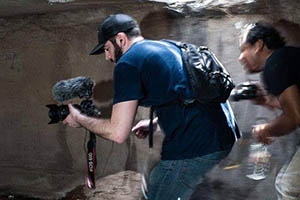 Matt Cipollone's film, Dear Baltimore a 25-minute short film that shines a light on the Next One Up Program, a nonprofit organization dedicated to transforming the lives of young men in Baltimore City by supporting their academic, athletic, and social development was featured at DC Shorts. Cipollone was also named the September 2017 Filmmaker of the Month. Cippollone also working with professor Bill Gentile on Freelancers, a global documentary series focusing on freelance journalists around the world who bring us our most important news stories, all too frequently at huge risks to their own safety and well-being. The pilot is also serving as his graduate capstone.
Kofi Gayle-Tendai wrote and directed Mommas Boy last semester in Dramatic Production, was selected for the Reel Independent Film Festival.
R. Kayeen Thomas' short documentary, Two Steps Back, was chosen as an official selection for the D.C Black Film Festival. The film questions the legacy of Brown v. Board of Education through the views of late Harvard law professor Derrick Bell. AU students who also worked on the film were Matt Cipollone, Director of Photography; Jean Michel Fischre, Editor; and Jimmy Alsberg, Assistant Camera.
Arshum Rouhanian, a senior film and media arts major in the School of Communication, took home first place at the Trinity Film Festival in Hartford, Connecticut, for his short film, Moonlight Suburbia. The award-winning movie tells the story of a teenage musician growing up in the suburbs, pursuing his passion while trying to overcome his impending deafness.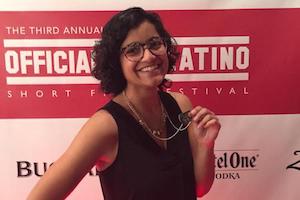 Alexis Pazmino's film M for Maritza was accepted into the Official Latino Short Film Festival where it received nominations for Best Comedy and best actress in a comedy. An extended version of the script was accepted into the Oaxaca FilmFest in Mexico, but unfortunately the actual festival was cancelled due to the earthquakes in the area.
Student Professionals
Keila Gunter (MFA) was been hired on staff by Discovery to work for TLC in Los Angeles.
Megan King (MA) was been hired on staff by National Geographic Partners to work on impact videos.
Crystal Solberg, a second year MFA student, Center for Environmental Filmmaking Palmer Scholar and winner of the CEF Challenge Prize, has been hired by National Geographic as an associate producer of on-line videos.