Communications
Salinas Returns to American University to Screen and Discuss Her Documentary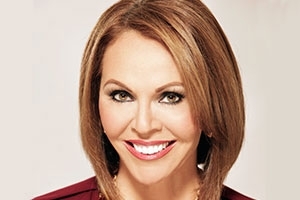 Award-winning journalist Maria Elena Salinas will introduce the opening night of Films Across Borders: Stories of Migration at American University (AU) on Friday, October 27, 2017 in the Malsi Doyle and Michael Forman Theater, McKinley Building.

Her documentary, Risking it All: Children at the Border, follows Salinas' travels to Central America and the US/Mexico border to explore why children have been putting their lives on the line to cross the border. In El Salvador, Honduras, and Guatemala, Salinas interviews fleeing children and their families, along with other pivotal players such as politicians, immigration experts, human rights supporters, human traffickers, and gang members. Reservations are required; the event will be first come, first seated.

This event, hosted by the School of Communication (SOC) and College of Arts and Sciences (CAS), will not be Salinas' first appearance at AU. In 2016, she addressed graduating students, family, and friends at AU SOC Commencement. AU awarded her an Honorary Doctorate degree for her work and contributions to her field. Salinas also took part in a Q&A with AU students last fall, discussing advocacy in journalism.
"We are thrilled to have Maria Elena introduce her documentary film as our featured opening night guest for this poignant immigration film series. She has devoted her entire career to examining important stories, and through this film she takes a personal and intimate look at a defining issue of the 21st century," said Dean Jeff Rutenbeck.
Salinas is the co-anchor at Univision Network News, Aquí y Ahora, and host of The Real Story on Investigation Discovery. While she will leave her Univision anchor chair at the end of this year, she will continue in journalism working on projects that reach new and diverse audiences across multiple platforms.
Her accomplished career in advocating for educational opportunity and civic participation has earned her seven Emmys, a PEABODY, and a Walter Cronkite Award. She was the first Hispanic woman to receive a lifetime achievement award from the National Academy of Television Arts and Sciences. Salinas has elevated critical issues to the national stage, including the exodus of children from Central America to the United States. She has covered global crises like the war in Iraq and natural disasters like the earthquake in Haiti, among others. With her social media network of over a million followers, she has a large footprint, which she uses to empower as well as inform.
Risking it All is presented as part of the International Cinema Series, which began at AU in 2014. Along with this feature, two other films will be shown on campus: Documented on Nov. 8 and Trails of Hope & Terror on Dec 6
On opening night, there will be a reception beginning at 6:30 p.m. and the documentary screening will begin at 7 p.m. Professor Jane Hall will moderate a Q&A and discussion with Salinas immediately following the screening. Registration required
"We selected immigration as the film theme for the 2017 International Cinema Series given its importance as a critical area of concern for each and every embassy and arts organization involved," noted Sharon Metcalf, senior director, SOC Strategic Partnerships & Programs.
Films Across Borders showcases stories of immigrants and refugees through tales of courage, hope, and determination. The entire Films Across Borders series includes more than 25 screenings in 10 venues throughout the DC region this fall. In addition to AU, the series is co-sponsored by Immigration Film Fest, Mexican Cultural Institute, SPAIN arts & culture, Cultural Services of the French Embassy, National Gallery of Art, Goethe-Institut Washington, DC LaborFest, and the AFI Silver Theatre and Cultural Center.