Communications
Alumnus Donald Curtis Honored at CCES Martin Luther King, Jr. Day of Service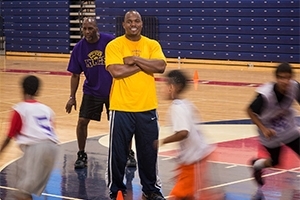 "Injustice anywhere is a threat to justice everywhere." With that powerful quote as its guiding theme, AU's Center for Community Engagement & Service (CCES) hosted its first ever day-long service event honoring the legacy of Dr. Martin Luther King, Jr. Planned and executed by CCES' Coordinator of Community-Based Learning Evert E. Justice Finger, the event combined the CCES' One-Day Service Events program and the distribution of several campus and community awards bearing Dr. King's name and honoring his commitment to public service. 
A service event benefitting Thrive DC set the scene: 200 individual care packages - containing hygiene items such as toothbrushes, toothpaste, soap, Gold Bond, and more - were assembled for people experiencing homelessness in the DC area. Thrive DC works to "prevent and end homelessness in Washington, DC by providing vulnerable people with a wide range of services to help stabilize their lives." 
The awards ceremony opened with a cultural performance by Les Coeurs d'Afrique, an American University-based dance group whose work celebrates the beauty and diversity of the African diaspora. Following them was the keynote speech by LaTanya Sothern, an AU alumna and principal in Prince George's County Public Schools. She began by asking the audience, "What do you define as justice?" 
Sothern then quoted AU professor Ibram Kendi: "injustice, like racism, is a cancer that threatens to metastasize and spread throughout the body politic." She went on to say that "we have to be proactive in how we attack injustice with equity, and we have to be intentional to restore the scales of the balance of justice. Each one of us individually has a responsibility to do it. You have to see yourself as someone who can live up to the legacy of Dr. King. [He] was not much older than the students in this room when he stepped onto that launching pad … there is no minimum age in being a change agent."
School of Communication Professor Gemma Puglisi's PR Portfolio class took on CCES as a client and developed a strategic communications campaign for them. As part of this, the class created the new MLK Visionary Award to honor the outstanding leadership work of an AU alumnus or alumna at a Washington, DC non-profit. The inaugural recipient was AU alumnus Donald Curtis, founder and executive director of SOUL (Student athletes Organized to Understand Leadership), a non-profit organization that empowers low-income student athletes in Washington, DC, Baltimore, and San Francisco.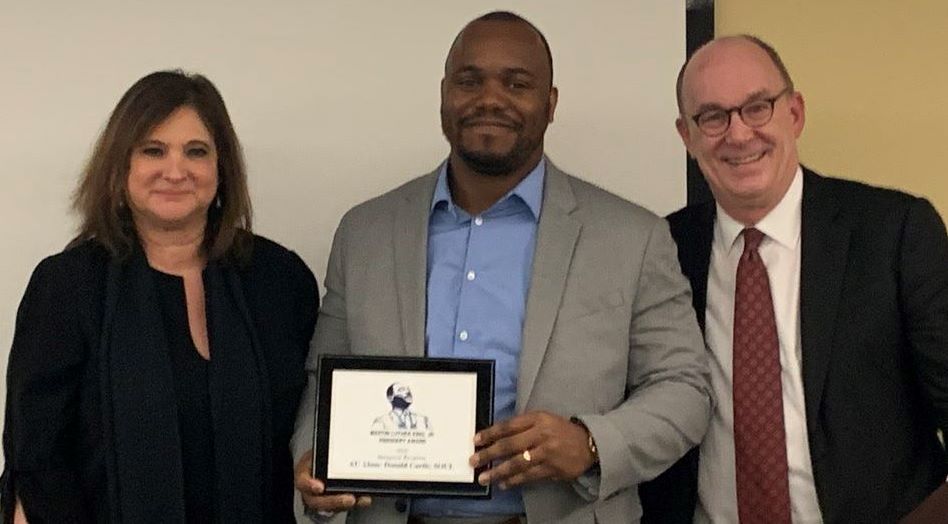 Awards were then presented to some of AU's own student change agents. School of Public Affairs graduate student Monica Behn, who is the Eagle Endowment coordinator, recognized the three students who were selected for the Eagle Endowment's 2020 MLK "I Have a Dream" grant cycle. Daniele Jallath was awarded for the Aramark workers thank you lunch project, and Colby Vine and Imani Vice were awarded for the Life Pieces to Masterpieces DC Reads Kids on Campus Day project. The Eagle Endowment for Public and Community Service is awarded in three grant cycles over the course of each year to AU students and clubs who wish to make a service impact in the DC area.
Marcy Campos, director of the CCES, presented the Newman Civic Fellowship Award to senior CLEG (Communication, Law, Economics, and Government)/Political Science major Isabella Dominique. Dominique has spent almost her entire undergraduate career advocating for social justice, specifically regarding racial inequities on campus, locally, and nationally. She currently serves as the president of the NAACP student club and the founder and chair of the Congressional Black Caucus Committee. She also functions as a team leader for DC Reads, a student liaison for the Black Alumni Alliance, and the program coordinator for AU's Project on Civil Discourse. Newman Civic Fellowships are granted to students nationwide who demonstrate leadership around civic engagement, community service, and various social justice issues, as nominated by university presidents or chancellors.
Dr. King's legacy is carried forward by the many AU change agents who were honored that evening. No doubt he would be proud to witness the work that is being honored in his name.