Communications
Five Reasons SOC Made PRWeek's Top 5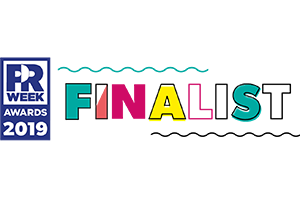 American University School of Communication (AU SOC) has one of the Top 5 outstanding public communication education programs in the nation for 2019, according to PRWeek.
The PRWeek Awards are seen as one of the communications industry's highest accolades. The awards celebrate the best of the best corporate, agency, nonprofit, and education teams, and the work they produced during the entry period. Limited trophies are awarded each year and the competition to earn them is intense. Here are five reasons SOC made the list.
Reason 1: Our Faculty
Our faculty, like the ever-engaged Jason Mollica, bring a wealth of engaging and innovative opportunities and real-world experience to the classroom every day. Professor Jason Mollica creates hands-on opportunities for his students, like when he partnered with Deirdre Breakenridge to create a blogging contest for his students.
Reason 2: Our alumni
Our alumni, like Alexis Janney, are movers and shakers in their field, and give our students and recent graduates an established and engaged network. Janney is currently a communication strategist at GreenSmith Public Relations.
Reason 3: Our CoMMitment to InclusiON
We are devoted to making the PR industry more diverse, which is why we have partnered with MWWPR to create hands-on, agency-based learning environments that encourage young professionals, particularly people of color, to consider public relations as a possible career choice.
Reason 4: Our Network of Industry Leaders
Our students receive unique opportunities to pitch and receive feedback from real, high powered clients to practice and improve their skills in presenting, creating campaigns, and problem solving. During the Building20 Challenge, students were able to learn how to answer a real world 'request for proposal' (RFP) and receive guidance and mentorship from members of United Entertainment Group (UEG) as part of the advertising bootcamp.
Reason 5: Our Flexibility
Through our online MA program, we can engage students like Julie Kraft, who are contending with busy lives and hectic schedules that take them wherever work and life needs them. Kraft went through many major life-changing experiences during her time as a master's student, but she prevailed and used her experience and knowledge to do work that she loves.