Communications
Focus on Students Earned SOC's Murray Staff Award for Service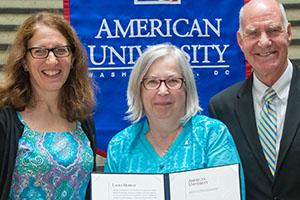 Based on her leadership role in helping to raise awareness – and stock – "The Market – AU's Food Pantry," American University School of Communication staff member Laura Murray has won the 2018 AU staff award for Service to the AU Community.
The Staff Performance Award Program was designed to promote and reward outstanding performance of staff. There are seven staff awards that are awarded to staff members each year and the nominations can come from supervisors, subordinates, peers, faculty, and students.
The Service to the AU Community Award is given to an individual or a group who went above and beyond their normal job responsibilities and achieved exceptional results.
Tony Hollinger, the Director of Initiatives for Student Engagement and Diversity, nominated Murray to honor her immense contributions to The Market. She donated and self-delivered over 500 items to The Market, in addition to about 200 items the SOC Team donated during their annual food drive. Murray also serves as the Founding Chair of The Market's Steering Committee.
Murray became a staff member at AU in 1977 and after working with School of Public Affairs, WAMU-FM, and the Washington College of Law is currently the Assistant Dean for Budget and Technology in SOC. Her office is responsible for the school's administrative needs such as budget monitoring and technology services. In the past she served on the boards of the Marvin Gaye Music Festival, the Washington Area Music Association, and Public Broadcasting Management Association.