Communications
For Alumna Dr. Arliene T. Penn, Choosing SOC Was The Right Fit Over And Over, Again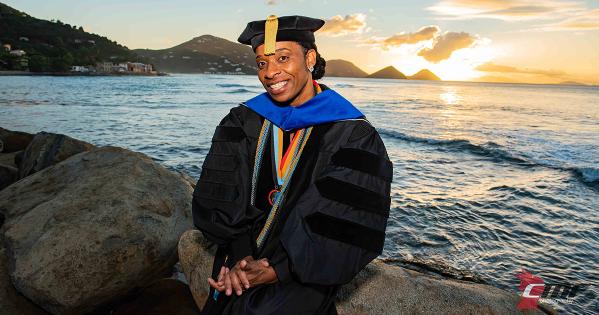 If she had it to do all over again, Dr. Arliene T. Penn, SOC BA '09/MA '10, would still choose AU.
 
Originally from the Virgin Islands, she came to the university at the insistence of her supervisor, Sandra Ward, a former AU alumna, as well. "I think you would be a good fit for American University," her then-boss said. Originally, Penn wanted to attend the University of the Virgin Islands (UVI) at St. Thomas. Her supervisor was the Director of Communications for the Government of the Virgin Islands at the time, and Penn, an information officer. "And so the government funded for me to go to study leave at American University," she detailed.

Penn came to the university with an Associates in Marketing, and later completed her BA in journalism from SOC. She felt like the university gave her the knowledge she needed, and prepared her for where she is today.
 
After studying journalism at the undergraduate level, Penn realized she would benefit from another field of study. The alumna understood what journalists were thinking, given her studies, and because her past experience helped her understand why government public relations would make certain choices and what the media wants from them, she decided to pursue public communications.
 
About a year after graduation, the Director of Communications position was vacant and Penn herself became the Director in 2011 and is currently serving in the position. She has worked with different government administrations and Premier (leader of the Virgin Islands).
 
So what does Penn do on an average day? The nature of her work can be a bit hectic. "The scope is very, very broad… [Essentially] I am the chief communications advisor to the government," Penn says as she spelled out some of her duties. She manages a team that distributes current events, news updates, and other information throughout the day. In addition, she also forms a comprehensive strategic communications strategy across the government—including reviewing speeches, media releases, news articles, and legislative agenda. Not to mention, she performs some policy advising and policy development.  

Penn's career has catapulted her into research and study through recently receiving her Ph.D. in Public Policy and Administration from Walden University. During her studies, she found that much of her work was contributing to the greater good of a larger community. "You're not just writing for you, you're writing for others," she said. "You're communicating for others." Everything aligns for her. "It's about being a leader in your roles and responsibilities and affecting change in the public," Penn addressed.
But earning the degree wasn't just the goal. She wanted to engage in social change and to teach and mentor those who came after her. Members of the American University community were instrumental in completing her degree. From the advice and counsel of Professors Steinhorn, Watson, and Pascale to those who worked with her on her dissertation, she felt pushed and prepared for the rigor of a Ph.D. program. "These professors are mentors, and I said to myself, 'Me too. I want to be able to impart knowledge on others.'"
Her dissertation, The Impact of Public Consultation on Business Growth in the Virgin Islands, explored how legislation and business regulations affect small businesses. The combination of her experiences at AU helped her write a paper fusing her interests in communication, public administration, and policy that held real implications for the small business community.
Her PhD review committee was chaired by Dr. Kevin Fandl and member committee Dr. Ian Cole both graduates of American University. "I handpicked my committee and intentionally only sought professors who attended AU because I wanted a team that would push me to soar like an eagle," said Penn. "They did not disappoint for I am successful today."

Through her professional and educational experiences, Dr. Penn has come to understand that each phase of her life was built on the strong foundation of the last. "You have to understand what purpose you're here to fill," she said. "And if you understand what your role and responsibility is…you [must] always prepare yourself for the role you want next, not the one you have."