Freelance Journalists to Discuss Increased Risks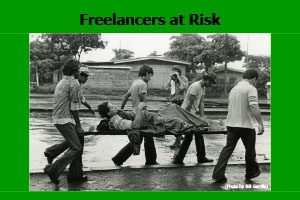 American University (AU) and the Pulitzer Center on Crisis Reporting will host a panel to discuss problems and solutions related to freelance reporting in foreign countries, as well as inside the United States. The event, Freelancers at Risk, will be held in AU's McKinley Building Media Innovation Lab Sunday, April 10 at 4 p.m.
The panel will include Jason Motlach,  an award-winning writer, photographer and filmmaker; SOC PhD student Kara Andrade, a researcher, journalist and entrepreneur who focuses on Latin America, media, technology and society and was a 2015 AU Pulitzer Fellow; and AU senior Trey Yingst, a co-founder of the startup media company, News2Share.
This event is free and open to the public.