Communications
From Public Relations to Pumps: How Alumna Salone Monet Is Creating Her Own Path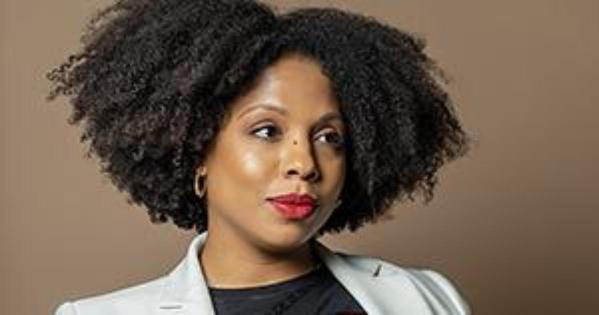 In March, we kicked off our Instagram series, Lunchtime Live with AU SOC alumna Salone Monet. Monet is the founder and creative director of the self-named, color-inclusive shoewear brand, Salone Monet. She is also a founding member of the Council of Fashion Designers of America, Inc. and Bethann Hardison Designer's Hub. 
Graduating from AU with a degree in Public Communication, Monet did not always know the path that lay ahead of her. In fact, post-graduation, she worked full-time in political public relations creating digital content for the federal government and trade associations, but also worked part-time in a shoe boutique in Friendship Heights. During her time at the boutique, her boss gave her the advice to offer a nude heel to all of her clients because nude pumps are a staple for every woman's wardrobe. But, the now-creative director "did not fit the nude that [they] were selling," Monet stated. That's when she noticed the gap in the market. "It just seemed like a glaring oversight. My manager was telling me this, as a Black woman. If she's not connecting the dots now, when are the dots ever going to be connected," the designer questioned. From there, Monet knew she wanted to create her own brand. 
Developing Salone Monet did not come without its challenges. Her first step was downloading a business plan and filling in the blanks. "I took one marketing course at AU, but didn't have a strong business acumen," the alumna said. Many of the obstacles the entrepreneur faced were in the small details. With her background in communications, Monet was well versed in marketing, branding, and messaging, but what she did not anticipate was building her company up to the point where she could use her skillset. Because factories were sending samples that did not fit her vision, she took it upon herself to take shoemaking courses to gain perspective on what really goes into making shoes, and to move her shoes from custom-orders to factory production. 
From understanding the process of creating her product to sourcing suppliers to finding factories, Monet found herself in a completely new environment. Her visionary, color-inclusive shoewear brand took some time to truly develop into a business. The alumna began drafting the business plan over 10 years ago, but did not publicly launch until 2018. 
During the development of Salone Monet, she developed the slogan "Nude is not a color." As a self-proclaimed shoe aficionado, Monet was tired and exhausted of seeing "nude" on the side of a shoe box. During her time at the shoe boutique, she often thought, "Why are we having this limited definition of nude? When did we decide that nude was a singular, one-shade-fits all [definition] that's not, in any way, the definition of nude." Stating the obvious, women have resonated with this sentiment. Taking all of this, she developed the slogan that would help push her brand further. 
Overall, the reception to Salone Monet has been positive. Stylists of celebrities were quick to adopt this innovative brand due to the unique utility of the shoes, citing that "there'll be a time when my client will need these shoes." General consumers took a longer time to warm up to the idea of a color-inclusive shoe, not realizing that there are options outside of the singular nude. "A lot has changed in the industry in terms of diversity and inclusion," Johnson asserts. Other industries, such as the makeup industry, have been revolutionized by brands like Fenty Beauty by breaking the norm of being color-exclusive. Salone Monet is doing the same in the footwear industry. 
Monet's favorite style of shoe is the Sable. The Sable is the first shoe she designed with the idea of a nude shoe in mind. The entrepreneur wanted to pay homage to the idea of a shoe that elongated the leg: "I didn't want it to interrupt the foot at any place to potentially chop up a silhouette," explains the designer about her creative process in making this style of show. "That's why I went with the slingback function because I felt like it was a true nude elongating shoe. I decided to use satin because I felt like it paid homage to melanated skin – it shines, it reflects the light. I also wanted it to be wearable so I included the recess platform." Her inventiveness in making her shoes shines through her creative process and enthusiasm. 
Although Monet believes that the fashion industry needs more women of color at the top of established brands, Salone Monet is actively working to revolutionize the footwear industry. She says the next steps are launching different kinds of shoes – flats and mules – as well as expanding to clothing at an affordable price point. Be sure to stay tuned on the Salone Monet website.