Communications
Games at the Pace of News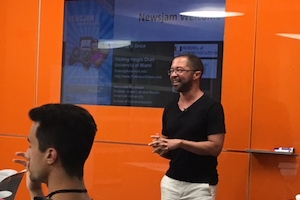 Professor Lindsay Grace had a clear vision in mind when he convened a group of students, gamers and game design experts on a recent weekend in Miami for a "Newsjam" -- a game-building experience linked to journalism and media.
"I wanted to show you can build news-related games at the pace of news," said Grace, head of the American University (AU) Game Lab and the visiting Knight Chair at the University of Miami (UM).
"We know we can make digital games much faster than we have in the past," he said, "but we needed to demonstrate it by involving local community members and people with varied experience in games."
And they did.
Grace, of course, thinks like a game designer. He is focused on outcome, engagement -- and a bit of fun. The Oct. 20-22 Newsjam hit all three. It was supported by SOC's Knight grant exploring the intersection of games and journalism and the University of Miami's Center for Communication, Culture and Change.
From Friday afternoon to Sunday at noon, participants developed games based on battling blazing fires, slowing the pace of global warming, separating "bots" from humans and fighting fake news. The game makers followed prompts on current trending topics, such as sexual harassment and climate change.
A game about harassment
The expert team from AU - Grace, with SOC adjunct professor Maggie Farley and Masters of Game Design alumna Joyce Rice - created a unique game called " Hurl the Harasser." The player wins by getting enough women to speak out about harassment so that their collective weight on a see-saw eventually catapults a harasser into the ozone. The game, like many, takes some editorial liberties and views.
The teams gathered on a Friday night to hear Rice's guidance on visual design and media expert Anika Gupta's presentation on the intersection of games and news. Participants were either graduate interactive media students at UM or gamers from the community. It was an intimate but powerful group of about 20.
About 36 hours later, the teams showcased their work in the Koenigsberg and Nadal Interactive Media Center, buoyed only by six meals delivered to the center and by Grace's constant attention and guidance.
Team members shared lessons as their presentations wrapped up. Some people had never designed games before, others noted very little interaction with journalism and its process.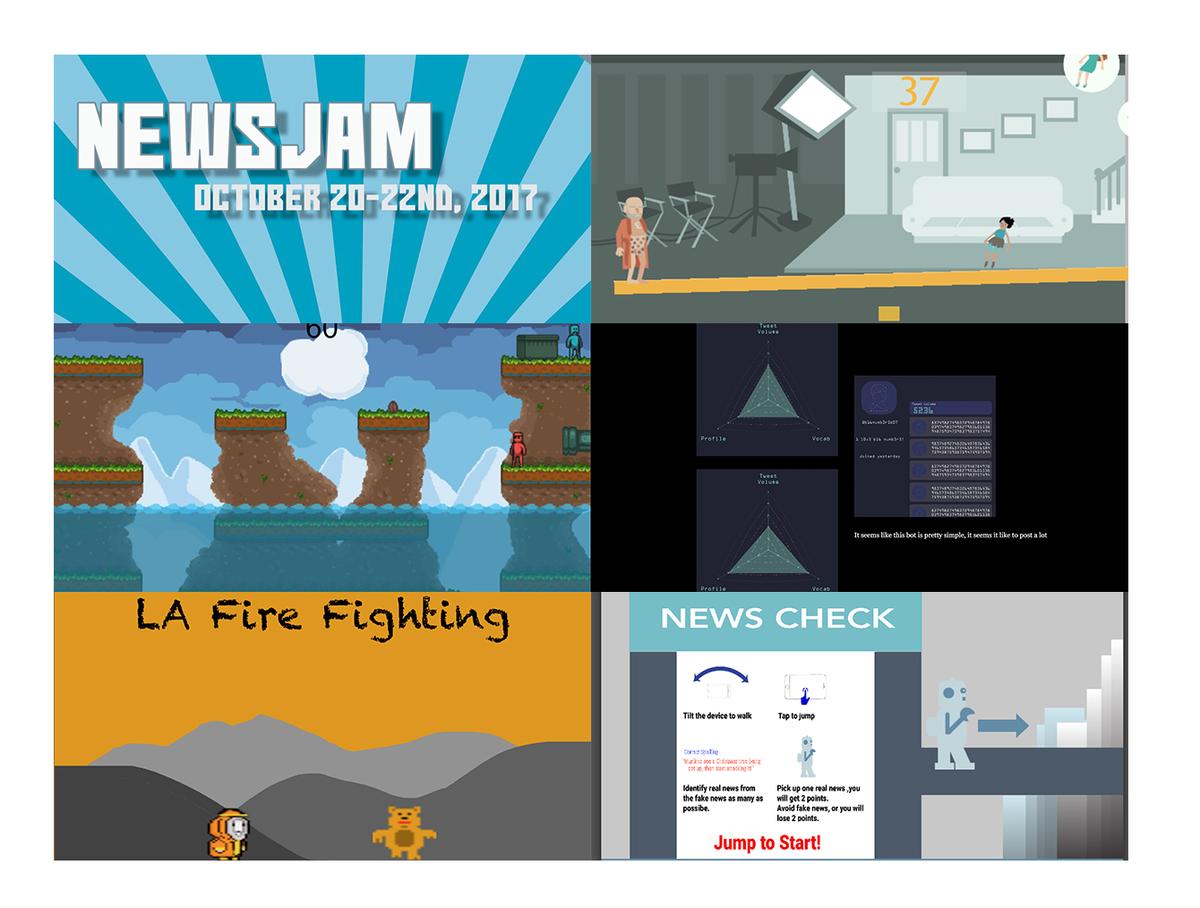 When learning really is fun
Game jammers said they learned more about their game topics, such as how bots work or the signifiers of fake news, how to use new tools for design and development, and lessons about scaling back their ambitions. "We learned how to pull back on our scope," said one participant.
Grace was not surprised.
"One of the most impressive things about this experiment is that many participants had never made a digital game before," Grace said. "Years ago these kinds of games would have taken five or 10 times longer to design and implement."
He added: "These types of games can easily fill the space of political cartoons or crosswords."
JoLT is a collaboration between American University's Game Lab and School of Communication tasked with exploring the intersection of journalism and game design. JoLT is funded by a generous grant from the John S. and James L. Knight Foundation.
The initiative, begun in 2015, wraps up officially this year. A final report on the team's findings will be released in early December.