Journalism
Class Creates Civil Rights Project for Gannett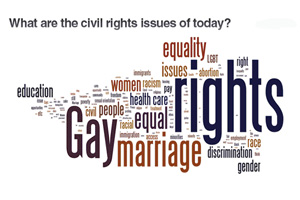 Students in Professor Amy Eisman's Writing for Convergent Media class had a special challenge this past spring. They had to create content relevant to Gannett's special civil rights Web site. The content is available to the websites of Gannett newspaper and broadcast properties.
The class, which included both undergraduate and graduate students, chose to tackle the new civil rights issues of today. They broke into teams -- one for text and video reporting, one to create a survey. The survey group conferred with public communication professor Maria Ivancin, while the reporting team took to the National Mall in Washington, D.C. for man-on-the-street interviews. With results of the semester-long project, students found that education is considered the number one civil rights issue today.  
Nichelle Smith, Custom Content editor for Gannett's ContentOne, was impressed with how professionally the students handled the research and presentation. "The project blew me away," she wrote. 
Smith said that thanks to the students, they have a good contemporary piece for their chapter. Joining the American University package at the site will be a story on a poll the Jackson Clarion-Ledger did with high school students about the use of the N-word. "It will be a nice complement to the students' work," she said.  
Smith said the site will run through July and will receive large coverage. "Currently we have about 20 properties that regularly use and promote the site prominently," she said. "Other sites display the page depending on their interest in the topic." 
There is also a link to a page the Montgomery Advertiser in Alabama created for their coverage of state and local celebrations around "To Kill a Mockingbird." Harper Lee's landmark novel on race relations in the South was published 50 years ago this July.
Eisman said it was thrilling that Gannett ContentOne editors valued her students' work so much that they featured it on the civil rights site. 
"I think the students were honored that someone was paying attention to their work," she said. "While the project was only a portion of their grade, they returned to the Mall multiple times to redo their interviews and spent countless hours rewriting, re-editing and creating graphics for the site." 
While students hadn't forgotten about the traditional Civil Rights Movement for racial equality, they found that other civil rights issues are on the minds of the millennial generation, including gay rights, gender quality and access to education.