Students Speak on Race and Injustice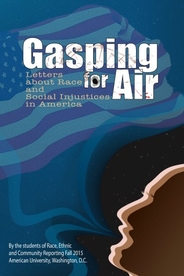 In recognition of Black History Month, the Center for Diversity and Inclusion and the School of Communication (SOC) presented student readings about race, violence and loss in the black, Native American, Latino, Asian American and white communities. The February 3rd event marked the official launch of the student-published book, "Gasping for Air: Letters About Race and Social Injustices in America." Read selections

The event also marked the launch of the #IAmTheRealAU initiative. #IAmTheRealAU invites students to post and share positive experiences with diversity at AU.
"AU and society in general have a tendency to look at race issues with color blindness," said McKinnon de Kuyper, a student of SOC's Race, Ethnic and Community Reporting class last fall. "This assignment was the first time that a professor ever brought up these instances in a class and asked us to write about it personally."
Associate Professor Angie Chuang had her class research and write to individuals who lost their lives in racially charged killings as part an impromptu exercise to teach about social injustices. Starting with the Black Lives Matter movement, students' writings evolved to include letters to shooting victims of all races, police officers, students' own family members, and even perpetrators of racial violence.
"When I saw how powerful the letters were I felt they needed to be seen by more people than me," said Chuang.
Learn more about the project and read selections from the book.