Communication Professor Puglisi Honored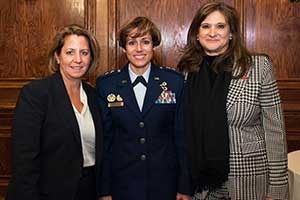 Award-winning media strategist and American University Assistant Professor Gemma Puglisi was honored by the Washington, DC Region of the National Organization of Italian American Women (NOIAW) at its annual Epiphany Celebration honoring Three Wise Women on January 14, 2016. Other distinguished honorees included Lt. General Gina Grosso, U.S. Air Force, and Lisa Monaco, assistant to President Obama for counter terrorism.
The awards were presented by the Honorable Connie Morella and the event was attended by Italian Ambassador Claudio Bisogniero.