Communications
Going the Distance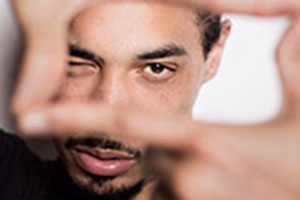 The movie TRI follows an ordinary woman who goes on an extraordinary journey as she trains for a triathlon. 
"I'd never done a triathlon or been to one," Jai Jamison (SOC/MFA '11), admits. "When I got hired (as director of TRI), I went to the first triathlon I could find to get an idea of the vibe and how I could film it," he said. 
The film has come a long way since its conception by producer Ted Adams, whom Jamison worked alongside throughout the film's development. 
"When Ted went into the project - it was his first time doing a feature film. So, he approached it from the 'let's get the band together and put on a show' mentality. But he also had an idea of the quality of the film he wanted to produce. He didn't know how to balance the amateur vs. professional, which is part of what I was brought in to manage," he said.
The normal gestation period for a film is three to four years, but it was only one year between when Jamison was hired and the film premiered.  The compressed schedule was based on a pragmatic concern: because the dates for the triathlons were already set production had to keep pace. 
"We would have had to wait another year to film the triathlons if we had waited," says Jamison.
Jamison filmed at the Luray Sprint and the Nations Olympic triathlons.
"When I was hired, I asked Ted 'what do you want this film to be?' My goal was to execute his directive" he explained. He took what Adams had conceived and did a page one rewrite. 
Before Jamison was recreating the script for TRI, he worked as a production assistant on the set of the film Lincoln by Steven Spielberg. There he capitalized on learning what it takes, behind the scenes, to have success onscreen. 
"I was observing on set one day and one of my bosses leaned over to me and said 'this is really something.' I gave him a puzzled look. He pointed out that Spielberg is the least experienced on set. This is because Spielberg does one maybe two movies a year.  A key grip or gaffer has been doing three to five movies a year working with different directors and sets. They become more experienced from their work on other projects, whereas Spielberg only works on Spielberg. One thing Spielberg does well is he surrounds himself with a team. [People] who know what they are doing and complements his vision," Jamison explained. 
"Film is a collaborative medium. It is essential to surround yourself with the best team and listen to them," he said. 
Jamison also worked as the Visual Effects Assistant on Season Two of the television show Turn, produced by AU SOC alum Barry Josephson, which shot in Richmond. "That opportunity and experience really prepared me to be ready to direct TRI," he says.
Throughout the production of the film, Jamison kept in mind the end goal. 
"I was blown away by the positivity and warm community I experienced attending a triathlon. I wanted people to feel this way leave the theater with a big goofy grin," he said. 
This became an entryway for Jamison's strategy for the film. He understood that a film about a sport is never just about the sport but something broader. 
"I latched onto the idea of finishing something," he admitted. Jamison knew what he had to do for TRI to cross the finish line. 
His advice to students and those aspiring to work in the film industry: "Just do it. Find a way to do it. Nothing barring you from creating because there are some things you can only learn by doing. 
Find mentors, befriend your teachers. They serve as phenomenal resources and have an array of wisdom. Picking their brains, people who have come before you, places you in a good position. AU definitely prepared me well for my career. You have working filmmakers and artists whose teaching elevates your knowledge to another level," he shared. 
"TRI is inspiring and entertaining. Someone who is about to do a triathlon could show this to their family and say 'this is what I am about to do'," Jamison said. In that sense, I think we succeeded. Other people have echoed this.  I couldn't have asked for anything more than that," he said.
Jai Jamison is teaching as an adjunct professor at Virginia Commonwealth University. In addition to guiding his students, he is doing commercial work and developing a TV pilot centered on the Richmond community. 
Watch the trailer for TRI 
Connect with Jamison on Twitter