Communications
Students Hit the White House Correspondents' Dinner
Four stand out American University (AU) journalism students were seated among the celebrities, journalists and political luminaries at this year's White House Correspondents' Association dinner. Daniel Barnes, Stephen Pienciak, Shannon Scovel and Anagha Srikanth were guests of CNN.
"Sitting at a table with members of the CNN digital and production team, Scovel felt encouraged in her choice to pursue journalism.
"The kindness and support from the CNN journalists, along with the overall message at the dinner about the importance of the First Amendment, inspired me to pursue journalism with an even stronger passion," she said, "The fact that we were extended invitations sends a strong message to the public that journalism isn't dying, and the next generation has something to offer to this field."
Justin Bernstine, Assistant Dean for Undergraduate Academic Services, explained that the students were selected by a committee of journalism faculty and SOC staff members. The selecting committee looked at the students' academic and professional achievements, as well as their service to the AU and SOC community.
"As these journalism students prepare to graduate from AU, this was a wonderful opportunity for them to network with journalists and hear from titans of the field, including Carl Bernstein and Bob Woodward, about the continued importance of the journalism profession in our democracy," Bernstine said.
Stephen Pienciak describes being surrounded by journalists he had great respect for as a "surreal experience."
Pienciak noted that this year's dinner was somehow different than previous years. "Everyone was actually more excited for this year's dinner because it got the focus back on journalism and away from the glitz and glamor of Hollywood," he said.
The students were invited to the CNN Washington Bureau the day before the dinner for a tour and a meet and greet with CNN Washington's anchors, correspondents and executives.
Barnes said that he was wondering what a White House Correspondent's dinner would look like without the President there.
"I wasn't really sure what to expect this year since Trump wasn't going, but I thought the Association handled it pretty well," Barnes said.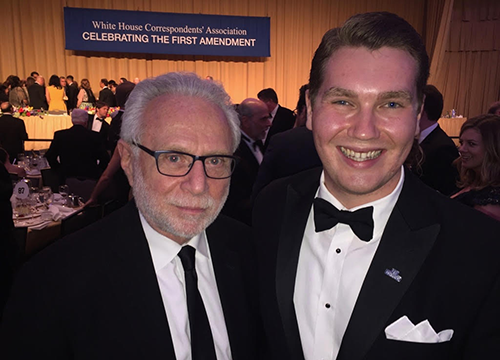 Stephen Pienciak and Wolf Blitzer
Scovel said that the Correspondent's Dinner was nothing like she had expected. "I had seen the White House Correspondent's dinner on TV in the past, but when they show the dinner on TV, they don't show every table, every conversation and all of the connections and celebration that occur on an individual level during the event," Scovel said.
For Anagha Srikanth it was an honor to be at the dinner surrounded by so many accomplished journalists, but what really made the night special for her was the man who delivered the keynote speech.
She explained, "As a first generation Indian American immigrant, having Hassan Minhaj - a man who shared the same minority background as me - speaking to our experience during this time," was really special.