Communications
Faculty Experts Weigh in on Developments in Documentary Filmmaking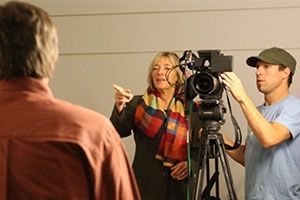 The growth of digital technology coupled with the access to internet has made it easier to connect with the world with just one click.
However, not everybody benefits from this technological growth. According to a recent publication by a group of film faculty at American University School of Communication, only 40% of the world is able to take advantage of the internet. In some areas, access is crippled due to lack of economic resources, education, availability and/or freedom of speech. Those who do not have digital tools or internet access are marginalized. "The challenge of giving voice to the unheard continues," professor Maggie Burnett Stogner, who edited the piece, said.
The collaborative effort was a chapter about documentary filmmaking for a new publication from CILECT, the International Association of Film and Television schools.
"The new storytellers: documentary filmmaking in the 21st century" was developed by SOC film faculty Pat Aufderheide, Larry Engel, Bill Gentile, Lindsay Grace, Larry Kirkman, Brigid Maher, Chris Palmer, Russell Williams and Stogner.

Here are a few interesting points to take away from the chapter:
Technology is evolving every day. In the mass media world there are always new tools coming out.  The ever-changing technology has made it easier for filmmakers or the media industry in general to create content and disseminate it in an easier way.
For example, Stogner notes that a former AU student was able to film a documentary about the genocide in Rwanda, edit it herself on her laptop and when PBS refused to air it, she was able to distribute it herself on DVD. 
"Just a decade earlier, this would not have been possible. The tools simply didn't exist," said Stogner. 
"The landscape for 21st century documentarians continues to evolve, in large part due to digital and web technologies," Stogner added.

The impact of mobile technology - and mobility - as well as virtual reality (VR). In the past, it was just one storyteller addressing an audience. Today, storytelling is collective and interactive with the potential for global engagement. The audience or viewer can now be active when consuming content. 
"Think about it! Rather than watching a movie in a captive theatre space, viewers/users can use augmented VR on their mobile devices…," Stogner said. 
Making the most of new tools. "The current revolution in technology is a double-edged sword… Often what we see on television is spray and pray," he said. 
Spray and pray, he explained, is a term for putting a wide-angle on the camera, filming everything in sight and praying something good comes out of it. According to Gentile, this is not a good use of technology or a proper use of visual language. He emphasized three must-havve components for a quality piece: good visuals from different angles, natural sound and narration. 
Read the full chapter about the evolution of the field.