Journalism
Hispanic Journalists Conference Hosted by SOC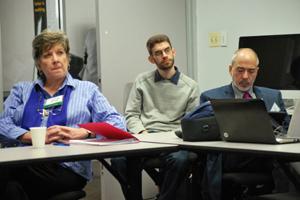 During fall break weekend the School of Communication was alive and buzzing with journalism professionals, talking about investigative reporting, international news coverage, audio and video storytelling and Latinos and politics. SOC was a sponsor of the Region 3 conference of the National Association of Hispanic Journalists (NAHJ).
This is the first time NAHJ has had regional conferences, with a simultaneous session held in Atlanta. "I'm a proud NAHJ member," said SOC Journalism Division Director, Jill Olmsted. "We hope to be able to host more such events in the future, in our beautiful state-of-the art building now under construction."
PBS News Hour Senior Correspondent Ray Suarez was the luncheon keynote speaker, addressing Latin America's growing influence in a time of change.
Session workshops featured speakers from Telemundo, Univision, Associated Press, The Washington Post, USA Today, the U.S. State Department and the International Center for Journalists, among others.
SOC alum, Ethan Klapper, the politics social media editor for the Huffington Post, joined a discussion about how social media is finding people and stories that matter. WAMU Special Correspondent, Kavitha Cardoza, shared radio storytelling tips.
The event ended with a screening by independent filmmaker Baldemar Rodriguez of his film, "In Search of the American Dream," a family drama that deals with the controversial subject of immigration.
NAHJ president Hugo Balta calls the event a success. "We promised you regional conferences that would provide training, and information to make you better as a journalist."
Established in 1984, NAHJ is dedicated to the recognition and professional advancement of Hispanics in the news industry. There are currently 1,500 members, including working journalists, other media-related professionals, students and educators.