Achievements
Hollywood Reporter Names SOC Prof Top Mentor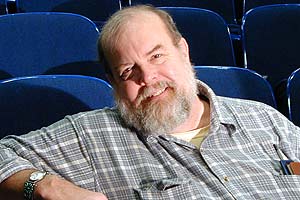 Hollywood Reporter recognized SOC professor and Film and Media Arts division director John Douglass as a top film school mentor in its prestigious annual report. Other mentors included on the list came from USC, UCLA and UNC. Douglass, who has been teaching at American University for more than 30 years, received his master's from AU before launching a successful career as a director, cameraman and editor. This is the second time Hollywood Reporter has lauded SOC's film program in recent years, naming it one of the nation's best film schools in 2007.

Over the years, Douglass has mentored countless students, including Adam Goodman, head of production at Paramount; producer James Middleton (Terminator Salvation) and "Saturday Night Live" writer Max Brooks. "I enjoy the dissemination of information, actually figuring out how to take something apart and make it understandable," he says, "and then watch them have the 'Ah-ha experience' ... and (subsequently) turn out really top-rated product," he told Hollywood Reporter.
Other film faculty have embraced this tradition of mentoring, leveraging their own experience and networks to help students transition into successful careers. Center for Social Media and SOC professor Pat Aufderheide has mentored many students, and advised Laura Waters Hinson, MA/SOC '07, who won a Student Academy Award for Best Documentary for her thesis project, As We Forgive. "Laura Waters is the kind of student who enriches us all. Her film, As We Forgive, takes the many lessons she absorbed while at our program, and combines them with her own brilliance and insight. Laura has taught as well as learned," said Aufderheide.
SOC's culture of mentoring extends beyond AU's campus. In the film industry, relationships with renowned professionals are greatly valuable to new graduates who want to break into the business, and in the Alumni Mentoring Program, AU alumni have the opportunity to mentor new talent. The program matches exceptional students with notable and respected alumni.
As part of SOC's Summer in L.A. program, students get the opportunity to learn from well-known film producers, directors, and editors. SOC film students get practical experience and a first-hand view of the industry's inner workings.
"There's a very successful American University community out here in L.A. working in every aspect of film and television," says Barry  Josephson, "and I've had the pleasure of seeing just how far SOC has come in recruiting talented students and a dynamic, accomplished faculty." Josephson, who produced  the box office hit Enchanted and is a founding member of Comic Relief, was a guest lecturer for a Summer in L.A. program and has served as an alumni mentor.
"SOC alums are among some of the most prominent communications professionals in our field. They're here to help you reach your highest dreams and often, open doors to launch your future career," says Denise Lew, a 2008 student mentee.