Communications
How Lesia Olesnyckyj Found her Voice at AU SOC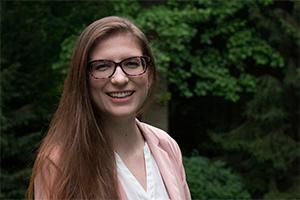 Through my years here at SOC and AU, I learned about the importance of communication; or rather, the power of voice. I know it's a little corny, given the name of our school. But I'd like to share a personal story that I think reflects that importance, because for the longest time I felt like I lost my own voice. I was afraid of sharing my experiences, my thoughts, and my ideas. But throughout my undergraduate career at SOC, I was able to regain my voice, redevelop it, and finally embrace it.
In 2012, I was a freshman student-athlete with an undecided major. To say the least, I was completely overwhelmed. However, I found myself drawn to the art of storytelling and the people that drove it. SOC seemed a perfect fit. Two years went by, I picked classes I resonated with, and before I knew it, I declared a double-major in both Graphic Design and Film and Media Arts.
But with so much to learn with what seemed like so little time, that 'overwhelmed' feeling I experienced as a freshman came creeping back. I became so anxious, I had panic attacks at formal critiques. I started to doubt the creativity and originality of my work and lost my sense of self. It felt like anything I created had no spark. Out of shame, I isolated myself. I shut out everyone else's voice because I didn't know how to connect with my own.
At the encouragement of parents, mentors, and friends, I took a leave of absence to address my mental health concerns. During my absence, not only did I have time to reflect on myself, but on the lessons I learned prior to my leave. As I progressed through treatment, I remembered what brought me to SOC in the first place: stories, and the people who tell them.
One late evening - and by evening, I mean three o'clock in the morning - it really hit home. I was in a YouTube deep dive, and had stayed up watching behind-the-scenes footage of films and animations. I found myself yearning to be a part of that process; not just the process of crafting a story, but interacting with the people that made it all possible. I realized what made SOC so rich and engaging were the people I had shared experiences with. I missed that, and for the first time, I became aware of the fact that I was listening to myself again. Not to the part that was telling me to sleep, but the part of me that made me choose SOC in the first place. With this realization, I returned to AU with a new perspective.
I have to admit, upon my return to AU, I was a little apprehensive. I kind of felt like my freshman self again, as I didn't know anybody in my program. However, I decided to combat that feeling by acting on my newfound perspective. To push myself, I signed up for classes I wouldn't have dreamt of taking before. One of those classes was dedicated to something I'm quite terrified of: writing. The class objective was to write a feature-length script and was broken up into workshops where the students gave feedback on the script's process. Given my history with these types of critiques, I was very anxious. But, I knew I had to start somewhere.
It was kind of a rocky start. I sat frozen in my chair at the first workshop, and I wasn't even the one presenting. But during the workshop, I noticed I wasn't the only one outside of my comfort zone. I was so comforted by this thought, I finally relaxed. My classmates and I were in the same predicament, and I remembered why we were all there in the first place. The class wasn't just to finish a script or to complete an objective. We were there to hone our skills in storytelling by learning how to use our voice, and most importantly, by learning how to listen. I re-learned the very basis of communication, both personally and interpersonally. My work wouldn't have gotten to the point it did without my accepting and applying the feedback from my professor and classmates.
During my long undergraduate career at AU, I was able to grow into the person I am today. Through SOC, I learned how to collaborate, to combine my voice with others, and project that into the media we produced together. I learned how to take my own voice, cultivate it, and fully express it by doing things I love to do. I created media kits in one class, and then actually applied that knowledge developing storyline graphics as an intern at the Investigative Reporting Workshop. I discovered how to take my doodle-filled storyboards and render them into animations. I took that writing class, wrote a script, and, to my own surprise, survived workshops.
Now that I'm graduating, it honestly feels like I've lived a couple lifetimes. But those lifetimes are filled with experiences and knowledge that strengthen my voice, just as they strengthen yours. If you take one thing away from this, I hope you remember that your voice is your power, and that power is amplified by the people you surround yourself with. That power is something nobody can take away from you, not even yourself.
Lesia Olesnyckyj is graduating with a Bachelor of Arts in Film and Media Arts with a minor in Graphic Design. Over the course of her studies at American University, Lesia swam distance freestyle as a member of the AU Swimming and Diving Team. During her time as an intern for the Investigative Reporting Workshop, she developed the creative components of news packages and created promotional material for both news events and film premieres. Lesia also explored her interest in environmental filmmaking with Classroom in the Wild: Chesapeake Bay and helped create the new trailer for the outdoor classroom experience. After graduation, Lesia is pursuing a career that combines her interests in filmmaking, motion graphics, and graphic design.