Communications
How the WONK Campaign Created a Community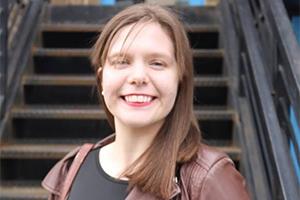 We love to hate a lot of things about American University and our time here. The number one trending object of disdain for the past four years, though, has remained the American University WONK campaign. Admittedly, it's one of the best communication campaigns I've ever seen. It got us in the doors. We saw those signs on the buses "90 percent of AU WONKS have had one internship or more by the time they've graduated" "AU WONKS are in the news every 27 minutes," and the list goes on. It was pasted all over the walls at the top of Katzen when we came for campus visits. The buttons were there at every Eagle Summit session.
There's a bigger and better meaning to the WONK campaign, though. As much as we love to hate it, the word, "WONK" connects us. We've seen several Facebook groups dedicated to "WONKY" memes, Someone was selling "WONK" sweatshirts for fifteen dollars at the beginning of the semester and a lot of people were ready to jump on that bandwagon, and we named the cat outside McKinley the WONK cat.
If you said the word "WONK" to anyone who has not and did not go to AU, would they understand what you were saying? Or would you be stopped for an explanation? Would the explanation even matter, or will the person you're talking to say, "well, that's silly." Yeah, it is silly, but it's ours. Even if we say WONK only in irony or sarcasm, it still connects us as part of the AU community.
The School of Communication, in my opinion, is the best example of the WONK campaign's community at work. No matter what major you are in SOC, you still have unique skills--the ability to connect others through words or images or sounds-- and you use those skills to give light to things you're passionate about. Whether it's comedy, music, immigration rights, women's rights, disability rights, politics, health, sustainability and the environment--you name it, and an SOC Class of 2019 member is passionate about it and has made something about it--whether it be a video, podcast, they've written an article, or even some sort project I can't fathom -- in their time here at American.
We also have a unique sense of community because of our SOC Ambassadors, who sit with us at Welcome Week and play icebreakers with us, get us to talk to one another, and give us ice cream. If we need our SOC Ambassadors, they'll be there for office hours and throughout the whole semester at events and discussions, which are often accompanied by free refreshments and sometimes stickers (which of you can truthfully say you would not go to an event with free food and stickers?) I don't know of any other school on AU's campus that celebrates its students and community in so many diverse ways.
Any community follows the example of its leader, and Dean Rutenbeck has always fostered a sense of community at SOC. I'm not sure if any other school at AU sees its Dean as often as we see him. He has his own office hours, and sometimes invites his dog--he makes sure to remember students' names and faces, and will sit down with us for the occasional event or talk. He talks directly to parents if they wish, and will remember them, which I recall made my parents incredibly happy at one particular All American Weekend.
The best thing, in my opinion, that connects SOC students, is our ability to share. We share passions, hopes, fears, internships, jobs, classes and professors. We share projects--stories, ad campaigns, PR campaigns, films, podcasts, clubs. And we share a building, a dean, and a cat.
The WONK campaign encourages community among incoming AU students, but SOC makes sure that you feel that community throughout your whole time here, no matter what happens.
Thank you to all that make this little school a home—faculty, staff, and us, Class of 2019.
Theresa Maher spent her time at AU pursuing a print journalism major and a health promotion minor. She hails from Long Island, New York and is the youngest of two girls. During her time at AU, Maher was involved with the Screamin' Eagles Pep Band, student newspaper The Eagle, SOC Ambassadors, and Peer Health Education. Maher had three internships while attending AU—Peer Health Educator at the Health Promotion and Advocacy Center, Communications and Stigma Fellow at RespectAbility, and Student Union Intern at Voice of America's Newscenter.