Communications
My Very Own Front-Row Seat to History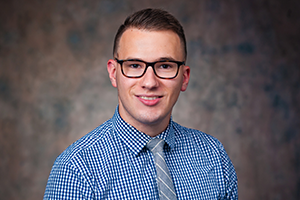 There's still something thrilling about it, days after the fact, when I catch a glimpse of impeachment coverage on the television or hear a podcast snippet about one of the public hearings.
Usually, the producer or host will play an important sound bite, and I'll pause, not just because of the gravitas of the moment, but because of the memory it elicits.
I remember that; I was there.
When I picked up my life this summer working at a small-town daily newspaper in western Kentucky and moved to the fast-paced media metropolis that is Washington, D.C., I couldn't have imagined what opportunities I would be afforded in just the first few weeks I was here. 
I enrolled in American University's Journalism and Public Affairs graduate program partly to build the credentials needed to be one of the reporters called on to cover historic moments of national importance like the impeachment of a president.
 
I hardly expected it would be a class assignment. 
For the first month or so of my class called Reporting of Public Affairs, my congressional assignments were, as best I could surmise, normal. That is, I covered hearings on terrorism threats at domestic chemical facilities or the rise of shadow Russian merceneries in third-world countries. Each hearing was its own fascinating experience, but, to be fair, they all amounted to "business as usual" on Capitol Hill.
But when House Speaker Nancy Pelosi announced the start of an impeachment inquiry into President Donald Trump's dealings with Ukraine this fall, the mood in Washington, and thus the type of assignment my colleagues and I took on, were anything but normal.
My first crack at impeachment coverage came when European Union Ambassador Gordon Sondland testified to the House Intelligence Committee that there had been a "quid pro quo" involving a valuable White House meeting and military funds for dirt on one of Trump's political foes.
That moment inside the massive Longworth Office Building hearing room was as palpable as it has been described to me. You become quite close with your neighbors in a hearing room setting like that, mostly because you have stood in line with them for hours just for the chance to be there when the committee gavels into session. Those sitting around me -- such as tourists, political junkies and activists -- audibly gasped, because they, like me, understood the gravity of what was being said. 
Sondland's verbal exchanges with lawmakers kept the 100 or so onlookers in near-silent awe.
And it's important to note just how few people really are in "the room where it happens" when, well, it happens. Room 1100 in the Longworth House Office Building usually seats about 150, but that's without at least 50 reporters and photographers from around the world, plus a slew of congressional staffers and U.S. Capitol Police. 
With a tight squeeze, the committees can usually make room for about 100 members of the public, so that means the line to be one of those select few inside usually starts forming at about 5 or 6 in the morning. 
Once inside, though, the room is breathtaking. It's usually home to the House Ways and Means Committee, but it's also the largest room on the House side of the Hill, so it's commandeered by higher-profile committees when their hearings demand it. The oval hearing room with its domed ceiling and eagle-adorned eaves is impressive each time you see it.
If there's one thing the impeachment of a president has shown me these last few months, it's at the heart of all the political showmanship and aesthetic grandeur, these men and women are real people, just like me. They all started somewhere and climbed the ladder to where they are today. They jumped at opportunities, they made mistakes but they never stopped trying, no matter their party affiliation, to do what's right for their constituents and the country.
That's a lesson learned covering any part of the political process — an impeachment hearing, the markup of a bill or even just watching lawmakers enjoy their lunch in a crowded cafeteria. I'm never going to forget my front-row seat to history. But I also don't intend to make it my last. (Note: This is an excerpt from a longer piece.)
Austin Ramsey is a graduate journalism student at American University and a reporting fellow at the Investigative Reporting Workshop. He is also Washington Post practicum student and president of AU's School of Communication Graduate Student Council. Before AU, he was a city government reporter at the Messenger-Inquirer in Owensboro, Kentucky.