Communications
Dean DeNardis' Latest Book Argues Cybersecurity Is a Human Rights Issue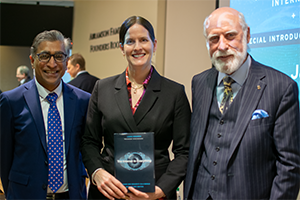 In her latest book, "The Internet in Everything: Freedom and Security in a World with No Off-Switch," Interim Dean of the School of Communication and professor Dr. Laura DeNardis hopes to convince readers that cybersecurity is the great human rights issue of our time. On Wednesday, January 29, an audience of more than 150 listeners packed the Abramson Family Founders Room to hear DeNardis discuss her book with internet pioneer Dr. Vinton Cerf. The discussion was moderated by Georgetown Law Professor Anupam Chander.
Inspired by her engineer father, DeNardis had an interest in math and physics from an early age. She later solidified her interest in internet policy in 1988 when she was an engineering graduate student at Cornell University during the first major internet outage. Now Dr. DeNardis is one of the world's leading internet governance scholars.
Dr. Cerf is widely recognized for his pioneering role in designing internet architecture and protocols. He is the winner of numerous awards for his work, including the National Medal of Technology, the Presidential Medal of Freedom, and the Turing Award. He currently serves as vice president and "Chief Internet Evangelist" at Google.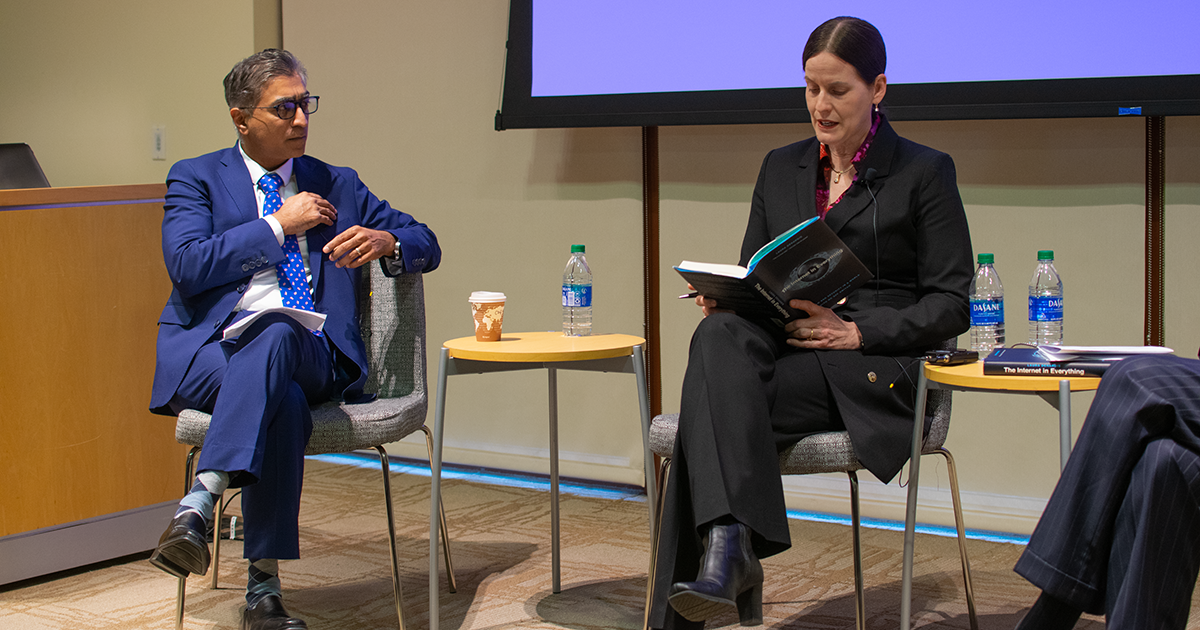 During their lively debate, DeNardis and Cerf often expressed different perspectives about technology and internet governance. However, they strongly agreed that internet technology is pervasive in our daily lives and that cybersecurity policy needs to catch up with that reality.
Dr. DeNardis' work examines "how the internet is governed and the conflicts of control over it." She says that the question, "What will the internet of things do to these conflicts?," loomed in the internet scholar's mind, which is what inspired her to write the book. 
The "internet of things" is a term used to describe the many ordinary objects that make up our lives, from smartphones to hearing aids, that are interconnected and communicate over the internet without any human involvement.
Aside from her personal interest on the topic, the professor says that during her time as a member of the Global Commission on Internet Governance, she commonly heard concerns regarding the internet of things. "I'm not the only one concerned," she says. The scholar points to events that got the media's attention and previewed some of the internet's vulnerabilities: a hacker breaking into a family's baby monitor and recent Iranian and Russian attempts to hack into energy systems. 
"People should be concerned because our national security and our personal privacy is now dependent on the security of this infrastructure," she says.
Describing the reach and independence of the internet, the author says that, if humans were to suddenly vanish from the Earth, "the digital world would still vibrantly hum...surveillance cameras scanning streets from Beijing to Washington would stream video…and Russian social media bots would circulate political propaganda."

DeNardis uses these examples to illustrate how our interaction with the internet has changed over time. Internet technology is no longer confined to human-facing display screens, but is integrated in nearly every aspect of our daily lives, including our bodies. The internet is more than just a system of communication; it is a control network embedded in the real world. She argues that there is "no longer a meaningful distinction between physical and virtual worlds."
This power to control our physical internet now allows for social, political, and economic power that "radically escalates governance concerns around privacy, discrimination, human safety, democracy, and national security." She points out that local issues regarding internet security are global and geopolitical issues as well.
Dean DeNardis offers cyber-policy solutions in her book as well. She is optimistic of where the future of the internet can go should society correct governance issues. The internet expert also hopes that people learn more about the internet and advises users not to be afraid of it. 
"The Internet in Everything," published on Jan 7 is Dr. DeNardis' sixth book, the second published by the Yale University Press.