Television & Film
Second Daily Show Intern Feels Well Prepared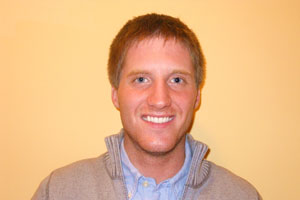 Another SOC student has landed a job as a production assistant during a two-week Washington run of The Daily Show with Jon Stewart. Senior Jack Weingart says a number of quality internships gave him the experience producers were looking for. 
Weingart, a broadcast journalism major who wants to be a television news producer, says the gig is "a great opportunity for me to get my foot in the door and to work and learn from a great team in TV." And Weingart feels prepared. "I interned at CBS News during the spring and summer of 2010, working side-by-side with Emmy-award-winning investigative reporter Laura Strickler on the CBS Evening News with Katie Couric. I learned all there is to know about producing from Laura and my time at CBS, reinforcing everything that I've been taught in my classes in the School of Communication."  
Weingart joins Film and Media Arts graduate student Peter Kimball on the crew of The Daily Show when it broadcasts from Washington, D.C., Oct 25 - 28. The show is billing its pre-election coverage as "Indecision 2010: When Grizzlies Attack" and "The Daily Show Midterm Teapartyganza." The show airs Monday through Thursday at 11 p.m. on Comedy Central.  
Weingart, who is from Endicott, N.Y., says going to school in D.C. also helped him snag the opportunity.  "They were looking for people who knew the lay of the land," he says. "I've been in D.C. since fall of 2007. I also have experience working on Capitol Hill and the U.S. Department of Education and I'm currently at the Investigative Reporting Workshop assisting on a PBS Frontline documentary. So I think they trusted my abilities in terms of producing and my working in Washington."  
A big fan of the show, Weingart says Jon Stewart is a "straight shooter, extremely intelligent and is hilarious to watch and listen to."  And aside from meeting Stewart and his band of correspondents, Weingart is hoping to see how The Daily Show team puts on an original, informative and funny show every night.

"It's going to be a true privilege and I look forward to it."