Communications
Jeremiah Patterson Named New Director of MA in Journalism and Digital Storytelling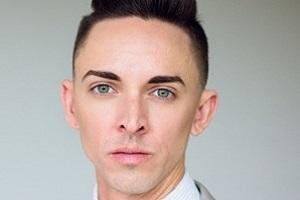 Professor Jeremiah Patterson is not afraid of change. He's seen firsthand that, with good skills, and a mindset that is curious and open to new technology, journalists can adapt and thrive in a changing industry and world.
He brings that perspective, as well as experience in multiplatform journalism, to his new role as director of the Journalism and Digital Storytelling weekend master's program in the School of Communication. 
The Journalism and Digital Storytelling program, which is an alternative to SOC's weekday master's program in Journalism and Public Affairs, was specifically designed to accommodate working professionals. Its Saturday class schedule allows students to continue to work full-time while completing their master's studies in 20 months in full-day classes. 
Patterson has been involved with the program for five years. In it, he teaches Web Studio, which is one of the first classes in the curriculum, and introduces students to web production, design, server management, and coding.  
Patterson says the program offers students a unique, intensive experience. 
The program is structured to enable the cohort to focus on one topic at a time. They complete six full-day Saturday sessions per class, exploring each subject thoroughly before moving on to the next. 
Patterson notes that having smaller class sizes and fewer time constraints allow professors to know their students well, to dive more deeply into the content, and to examine topics in a meaningful way. "There's something quite unique about spending an entire day in the classroom with the professor," he said. "It allows you to more quickly develop a working relationship."  
Faculty in the weekend program have included leading experts on data journalism, photography, video and long-form journalism, and have been brought in to teach from Vox, The Atlantic, The Washington Post and Bloomberg. 
It's an environment that also encourages strong bonds between students, who graduate with a network of friends and contacts they will keep for life.  
The curriculum is very similar to the traditional master's program and covers the foundations of journalism. However, as the name "Digital Storytelling" suggests, there is also a strong emphasis on technology and emerging media, which is why Patterson's education and experience make him so well-suited to guide the program into the future.  
Patterson brings unique and highly sought skill sets to the position. After graduating with an MA from SOC, he served as web content developer for The Wildlife Society before becoming Digital Manager for the Online News Association (ONA) for four years. In that role, he was a key player in the world's largest association of digital journalists. 
ONA "exists at the intersection of journalism and technology," said Patterson. There, he became aware that other skills, such as graphic design and developing interactive content, are critical to the work of journalism. He brings that perspective to all his classes. 
"I want my students to have the digital skill sets they need to take all the important tenets of journalism they're learning — in ethics, communication law, and reporting — and actually apply that in a practical way to the field."  
Patterson is also enthusiastic about the emerging media landscape. In the early days, he said, digital journalism meant taking a story and posting it online. Now, with the proliferation of technologies and platforms, journalists and storytellers have many more opportunities to connect and engage.  
"A story as we know it doesn't just have to be words on a screen," he said. "It can be a video that you see through a 360 experience. It can be a 'zine or comics." 
To engage audiences today, it's essential to stay current with technology. But, he warns, it's not enough to guess and learn the latest technology, which is always changing. Instead, journalists must develop a mindset that is curious and open. 
For example, Patterson says, he added a segment on TikTok to one of his classes. At the time, "everyone was rolling their eyes" at the application, used mostly by preteens to post short dance videos. Soon after, the platform took off, became one of the most widely used apps and a vehicle for political messaging and other more serious communication.
When looking at a new platform, Patterson encourages students to always ask, "How can I use this for storytelling, for journalism, in my digital professional life?"
An open mindset and wide range of skills, says Patterson, will also make program graduates appealing to future employers. We live in the age of distributed content, and a journalist that can take a story and bring it to audiences in multiple ways, he says, will be more successful. 
Another lesson Patterson took from his time at ONA was to apply "design thinking" to everything he does. Now, as a research fellow at AU's Center for Teaching, Research & Learning (CTRL), he is looking at how design thinking concepts can be applied in the classroom to increase engagement and learning.  
He encourages his students to apply design thinking to their work as well. "Prototyping, iterating, failing fast, and those sorts of concepts; if you can apply that thinking to new tools and new technologies, I think that's where you'll find success," he said.
Patterson looks forward to bringing these perspectives to his new role as director.
He has watched the program evolve under the leadership of outgoing Program Director and Professor Margot Susca, and he plans to continue to assess and update the program to ensure it continues to meet the needs of students. He looks forward to meeting with alumni, students and faculty in the coming months to listen and strategize. 
"Margot has done fantastic work for the last five years," he said. "I'm excited to continue the direction she set, fold in the perspectives I have, and see how the program can evolve to keep training the next class of changemakers and storytellers."