Communications
Jessie Smith - Message to Fellow Graduates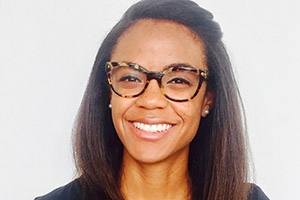 Jessie Smith 

MA in Strategic Communication
Well, guys – I can honestly say there's no other place I would have wanted to be this past year. Don't get me wrong - any year I would have been lucky to be in school with you guys. You're some of the most brilliant and creative minds I've ever encountered. But this year in particular – I feel like we were together, right now, for a reason.
The crazy thing is - I almost missed out on this incredible experience. For my entire life, I thought I was going to go to medical school! In college, communications began tugging at my heart, and for so many years I kept pulling back, wishing it would stop and leave me and my MCAT books in (miserable) peace. But those stubborn little tugs wore and wore, and I finally gave in. By early 2016 I was ready to take the initiative and apply. I would soon be completely enamored with the field of health communications.
"Initiative." In the dictionary it's defined as, "an act or strategy intended to resolve a difficulty, or improve a situation." It's an attribute that we each strive for in school, at work and in life overall, right? This past year or so, though, the term "initiative" has meant something more. It's felt like something more. And I know I'm not alone in this. I know because I was with you - and we felt this together.
We have experienced an extraordinary time together as peers, and more importantly, as friends. We celebrated triumphs, supported each other through sadness and confusion, and when differences arose, we truly listened to each other, and became better people for it. Inspired and motivated by each other, we knew this world needed us, and individually and collectively - we took action.
Lucky for us, taking action isn't difficult when you're surrounded by our impassioned, trail-blazing faculty. You have Professor [Caty Borum] Chattoo's "Rise Up for Social Change" initiative exploring important topics such as education and healthcare. You have Professor [Angie] Chuang leading conversations on contemporary themes like American Otherness, and you have an investigative reporter, Professor [John] Sullivan, who provides the amazing opportunity in his practicum class for us to work at his side at the Washington Post during this peculiar time in journalism.
Here, at SOC, we have received training from one of the best communications programs in the world. With mastery of the great power of writing, speech, and film, my hope is that we never take these skills for granted. As we move into the next phase and beyond, let's not forget this unique time we spent together, the way we felt, and the bonds we formed. Whatever path you go, and whatever work you do - remember to use your voice for unity, and for good. Vow to take that initiative. After all, our world is what we make it.