Communications
Top Five Tips for Landing a Journalism Internship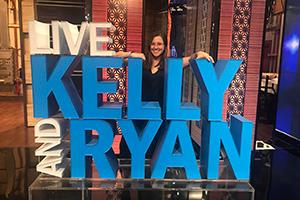 Emma Galasso, a senior studying journalism at American University School of Communication (AU SOC), will have interned at ABC, CBS, and NBC by the time she graduates. Her journalistic achievements are impressive, so we asked her what the top five skills are that a journalism student needs to land an internship.
1) Be confident in your abilities. While there is a fine line between being cocky and confident, it's important to recognize that you are a great candidate for the role. Be sure to know how your abilities align with the required skills and responsibilities of the role you are applying for. You are selling yourself as a great candidate to the company and showing them how they would benefit from having you intern there.
2) Show, don't tell. Create a website where you can post stories that you've written or produced, share your anchor reel, etc. Employers want to see the skills that you have and what you've done thus far. Even if they're not "hard" stories, the ability to write, edit video, and publish work is a great way to showcase your skills. If you're just starting out, anything in the communications realm (social media, graphic design, video montage) is a great way to show your potential employer that you have passion in your eyes!
3) Apply to everything. Try new things and be versatile. For me, I always loved producing news, however going into my last year of college, I took the summer to dip my toes into the entertainment broadcasting industry. You are in college, so now is the time to try different experiences. Go to a new city and step outside of your comfort zone.
Along the same vein, apply to multiple positions within the same company. There are always a ton of internship opportunities and your applications express to the employer that you are interested and want to work for them.
4) Be aware of opportunities to interact with companies outside of internships themselves. When larger events happen, such as inaugurations, midterms, etc., news organizations are always looking for extra hands. Many local news stations also have "street teams" where you can volunteer your time to help out at station events.
Find alumni that work at these organizations. Reach out and ask them to grab coffee to talk about their experiences. Don't go in with the mindset of "getting a job" out of them. Treat this meeting almost like an informational interview.
5) When you finally land that internship, it's time to give it your all. Never be afraid to ask, because the worst answer you'll get is "No." Try to understand everyone's respective roles, go out on field productions, and get to know how people got their start in the journalism field. Hearing other's experiences is truly a great way to learn how to navigate this fast-paced career path.