Communications
Commencement Message from an 'Untraditional' Student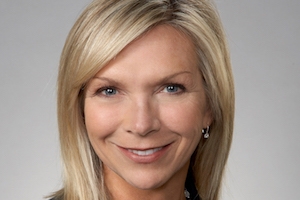 Julie Kraft will receive her MA in Strategic Communication from American University School of Communication on May 12. Below, she shares her journey while in the online master's program and some advice to her fellow students and her children. Kraft heads The Kraft Co., a communication consultation company serving various professional, academic, and nonprofit clients.

Congratulations to all the graduates of 2018. Commencement means "a beginning or to start," so here is to new beginnings!
Also, on this graduation weekend, Happy Mother's Day to all the mothers out there. For me, graduating during Mother's Day weekend feels appropriate. I see it as a tribute to the women who raised me: my mother and my grandmother. It was my grandmother who years ago told me: "Money, men, and friends may come and go in your life, but no one can take away your education." Getting my undergraduate degree was something she insisted I do. She believed — as do I — that you should never stop learning.
About 21 months ago, I became an untraditional student - and I mean "untraditional" in many ways. This time around I did not have the typical comforts or fellowship that comes with campus life. I did it online from my home in Iowa. I also did it from hotel rooms and airports and basketball tournaments and hospitals. I did it all while juggling needs of four kids and a husband. This meant that some routine things, like our Sunday night family dinners, went by the wayside. And my Christmas decorations did not come down until February.
When I started, never did I imagine the hurdles I would face along the way. In fact, if I had known about all the challenges, I might not have signed up.
Here's what popped up during my time in the program:
Due to a complicated situation, I left a job I loved and held for 18 years.
My son transitioned into becoming my daughter.
My husband underwent a major life-threatening surgery with a difficult recovery.
My mother's health failed, requiring around-the-clock in-home care. I traveled across the state of Iowa more times than I can count to help my brothers care for her. A few months ago, my mother died just as I was entering the home stretch of my master's program. I'm sad she is not here to see my graduation.
And, as can happen in life, between my mom's passing and her funeral, my 14-year-old son was hospitalized with dehydration and a high fever.
Seriously, it's been quite the time. And with all of this going on, I somehow also gained, at least, 15 pounds. Probably 20. That is a college requirement, right?
I know many of my classmates experienced similar challenges.
I share all this not for sympathy, but to show that even in the toughest of times, you can rise above the obstacles thrown your way. As Winston Churchill once said, "Success is not final, failure is not fatal; it is the courage to continue that counts."
So through it all, I persevered and pushed forward and kept learning. I'm deeply grateful to all my professors, and especially to Professor (Donald) Tighe and Professor Basu, who were understanding during the extremely hard times. Thanks also to Professor (Arthur) Swift. Somehow our 10-minute catch-up calls often turned into 30-minute conversations, which I enjoyed a great deal. Honestly, all my professors were terrific. I'm also thankful for my classmates, my family, and my friends. Few walk across this stage without some sort of support network. I'm lucky to have had so many rooting for me.
Great things also happened. As a result of leaving my old career behind, I stepped in and became the volunteer coordinator for a PGA charity golf tournament--meaning I organized and oversaw 350 people on a golf course--and I don't even golf! And a social media strategic plan I wrote in a class led to a part-time gig, which I absolutely love.
My son's transition to becoming a woman led me to see the world in a new light. I believe now, more than ever, respect, tolerance, and understanding of our differences are critical. As a sign in my home reads: "In a world where you can be anything, be kind."
I've truly learned so much while earning this master's degree. Life is unpredictable, so going the traditional route isn't the only way to get big things done. I appreciate that American University's School of Communication has the means to accommodate untraditional students such as myself.
One final thought for my children-I hope you see that when you have a goal, sacrifice is often part of accomplishing that goal.
Good luck to all the graduates. Here's to commencement-here's to new beginnings!
Julie Kraft specializes in strategic planning, brand building, crisis communication, and social media strategy. Having worked a number of years in television, Kraft also offers performance coaching for professionals looking to develop their personal story, polish their image, or improve their interview performance. Kraft loves a good communication challenge and thrives on innovation and out-of-the-box thinking.