Internships
Starbucks Serves Up Experience in Global Communications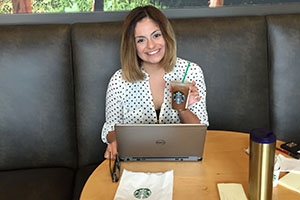 What did you do this summer? Kenya Alvarado, a 2016 graduate of American University with a B.A. in both International Studies and Public Communication, is completing a LAGRANT scholarship in Global Communications and Public Affairs with Starbucks in Seattle. We caught up with Alvarado as she completes her summer in the other Washington.
Q: How did you first hear about the LAGRANT scholarships?
A: I heard about the LAGRANT Foundation from Professor (Pallavi) Kumar who encouraged me to apply for the Harold Burson Fellowship. I made it to the top three finalists, but did not get the Fellowship. In the process, I made a connection with someone from the LAGRANT Foundation who informed me about their program and the internship with Starbucks. I thought I would be perfect for the role. I applied for the internship, went through 4-5 rounds of interviews (including speaking to the Manager of Corporate Communications and Latin America Public Affairs, the Director of Corporate Communications, the Manager of the Starbucks newsroom and the Senior Vice President of Global Communications) and was offered the summer internship.
Q: How were you assigned to Starbucks – luck or choice?
A: I've always been personally invested in and passionate about Starbucks. I worked on a corporate social responsibility project for a class during my freshmen year and I fell in love with the company. I feel that corporations have the power and financial resources to create positive social impact in the world, and Starbucks effectively does this. Once I heard about the internship with Starbucks, I applied right away because I had always wanted to work there. The thing I was most worried about was relocation, but with this internship, Starbucks covers airfare and housing during the program, which allowed me to pursue this opportunity. As much as I dreamed of working for Starbucks, I wouldn't be able to work here if it was not for Starbucks financial help.
Q: What have you done at Starbucks this summer that makes you proud?
A: I am working on various media strategic plans, but one that I am most proud of is the communications media plan for the Phoenix Opportunity Store. (Starbucks has announced it will open stores in diverse, low to medium income urban communities to achieve their goal of hiring young people between the ages of 16-24 who face systematic barriers to meaningful jobs and education.) I am excited by this project because it allows me to work on the social impact initiatives that Starbucks implement, something I am personally passionate for, while allowing me to learn and practice the basic communications skills needed in the field of public relations.
Q: What has surprised you most about your internship?
A: I am very surprised with the Starbucks environment. I was expecting a hostile corporate environment, but everyone is very friendly, supportive and optimistic. They really want their interns to succeed, so they give us projects which help us grow in our careers. It's the perfect environment to work in. We are given meaningful projects, coffee/tea education, and are immersed in our departments. The Starbucks internship program has interns working in different departments across the company, I am one of two in the Public Affairs department. By interacting with the other interns, I am able learn about areas not related to public affairs, such as Starbucks supply chain, operations and marketing practices.
Q: What is something you learned at School of Communication that you've used in your internship?
A: SOC focuses on practice rather than theory. Therefore, the SOC approach prepares students for future careers. Something I appreciate, especially now, is my PR Portfolio class with Professor Kumar. We worked with a client (Marriott) and learned how to craft a strategic PR plan. Although in-house is less tactical and more strategy, I value that PR Portfolio introduced me to the steps in creating a strategic PR plan. Having that experience makes it easier when working on my current internship projects and it allows me to be able to effectively communicate with Edelman, Starbucks' PR agency.
Q: What is something you have learned from the internship that you think will be applicable to your future career?
A: I was very fortunate to shadow the Edelman PR consultants for two days during my internship. I got to compare and contrast working in-house and working at an agency. This exposure helped me realize the type of work that I want to do long-term. The Starbucks Public Affairs team has allowed me to work with both corporate and consumer communications, in order for me to figure out what type of communications I am interested in pursuing. I originally thought I was going to want to pursue consumer communications, because that is what everyone my age is interested in. But after working with both, I realize I am interested in learning more about corporate communications. This is something I would not have discovered if it wasn't for the internship with the Starbucks Public Affairs team and the opportunities they have provided me.
Q: What advice do you have for other students who are looking for, or already working in, internships?
A: Throughout my four years at SOC, I was always told that in order to be taken seriously, I would need agency experience. I let my lack of experience in the agency world discourage me from applying to many internships that did not fit the mold. When I decided to apply to Starbucks, I never thought I would be considered because I had no agency experience. Now that I am here, working with Starbucks Public Affairs team, I realize not everyone has the same path. Some people on the team have years of agency experience, while others have never worked at an agency. Everyone has different paths and don't let that discourage you from applying to your dream internship.