Achievements
Liz Calka Named 2010 BleakHouse Fellow
By Rosemary D'Amour
September 29, 2010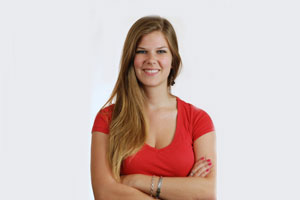 Liz Calka will be graduating this December with more than a BA in Visual Media and Graphic Design. Winner of four AU Visions Awards, Calka is also the 2010 BleakHouse Fellow, and as a part of her fellowship, will have a book of her photography published.
BleakHouse Publishing, a small, independent press started by AU professor Robert Johnson, sponsors Calka's fellowship. The guarantee of getting a book in print is a liberating experience, she says.
"It's so nice to have the creative license to make something, and know that you have someone to publish it," Calka says.
Although still in the works, Calka's idea is to create a book of portraits of people in and affected by the Washington, D.C. justice system, everyone from police to those with family in prison. The daughter of a police officer, Calka says she can see things from both sides, and wants to shed light on a serious issue.
"I want you to see the portraits of people for who they are—which is just people," Calka says. At the end of the book, she will include information such as names and interviews of those she photographed. "I hope it will be a humanizing experience for people."
Johnson, also a criminologist, started BleakHouse Publishing in 2007 to highlight creative projects on social justice issues. Calka's work in his "Deprivation of Liberty" class impressed Johnson enough for him to use her work for one of his books, "A Zoo Near You." Within a year, she became the Artistic Director for the press, where Johnson says she has a free hand to experiment with the website and design projects.
"I think that Liz was open to the opportunities that were presented to her, but she helped to make them blossom," says Johnson. "She was very proactive in making things happen for herself. The fellowship will be her crowning achievement."
Johnson says that Calka's talents in artistic and graphic design will make her book "quite original and very compelling."
Earlier this year, Calka won the best new media Visions Award for her website, lizcalka.com. The category was sponsored by Interface Media, where she interned over the summer and is now working as a junior designer in the digital media department. She also won the Visions Award for best photographic documentary series for British Ink, a story on tattoo culture, detailing a shop on H St in DC—although she doesn't have any tattoos, she says she is a "fascinated outsider."
The bulk of Calka's experience outside of class has been design work. She became one of the Assistant Design Editors for AmLit, AU's Literary Magazine, and has interned with the Smithsonian helping with exhibition design. Her online portfolio, she says, has given her a few breaks.
"If you're in graphic design, people want to see an online portfolio," Calka says. "My website has helped me so much, getting the award for it has opened up other opportunities, like my internship at Interface."
Originally, Calka came to AU thinking about journalism, but the variety of courses in visual media she found at SOC, she says, changed her vision.
"It really opened my eyes to all the different possibilities in graphic design," Calka says. "I came in liking photography, but I found I could make a career of something else."